Japanese Panic Horror Anime "The Island of Giant Insects" a.k.a. "Kyochu Retto"s team Launches Kickstarter campaign for its "English Dubbed Final Edition"!
---
Rewards Include Voice Acting Role, and You as an Anime Character in the movie!
---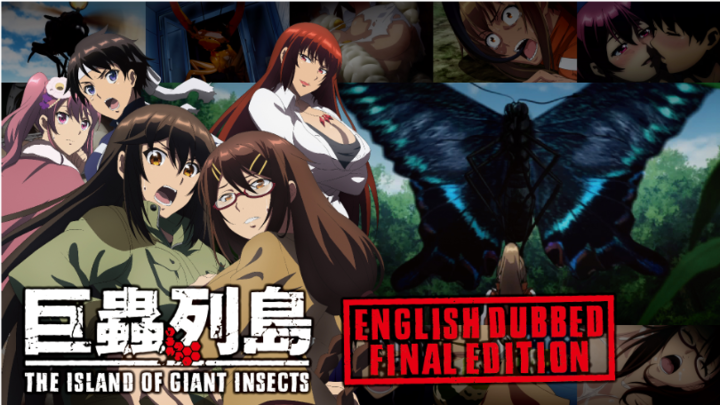 [Tokyo, Japan, February 13, 2020] -Japanese Panic Horror Anime Kyochu Retto's team will be launching Kickstarter campaign for its "English Dubbed Final Edition" from Friday, Feb. 14, 2020 19:00, with various great rewards which includes voice acting role, and making you be an anime character in the movie! Due to the nature of this project's extensive rewards lineup, there will be 2 reward groups: one for anime fans, and another for live-action / Noboru Iguchi fans.
<Overview>
Kyochu Retto - originally a Japanese online comic series featured on "Manga Cross" (operated by Akita Shoten), it boasts over 1.1 million domestic monthly views, grabbing the nation's eyes and hearts with its horror and action-packed content. June 2019 the production team released its first anime Blu-ray bundled with the comic books, and recently in January 2020, the movie made its theatre debut in Japan.Outside of Asian countries, the anime movie can be viewed on Crunchyroll.
The story starts off with a school trip plane crash, causing a group of students to be cast ashore on an island infested with gigantic insects. While all morals and values are lost in the devastating jungle, the story takes the students through a horrific fight for survival filled with violence, sex, and gore. This unique and unusual plot setting for a Japanese anime is beginning to capture the attention of anime fans worldwide – and now a Kickstarter campaign has been launched to produce an English dubbed version, and aim for global recognition.
<Kickstarter Unique Rewards Lineup>
Outside the usual list of promotional goods and anime production related items such as keyframes and settings materials, we see a number of rewards that will actually allow you to be part of the movie.
"Your screams in the movie" will allow your recorded screaming voice to be put in the movie (obviously of a death scene), and for "You will be a character in the movie", the production team will actually look at your photo and create an original extra character based on your physical features. The prime reward is "Be the voice actor for Akira" - letting you make your anime voice actor debut for one of the more important characters in the movie. All of these are limited rewards. (Participants will be directed to follow certain guidelines.)
<Live-action fans, they are not leaving you behind>
Let's not forget there is also a short live-action movie. Film director Noboru Iguchi, famous for his work with Flowers of Evil, The Machine Girl, and Denjin Zaborger fell in love with Kyochu Retto and joined hands with the anime production team to create a promotional live-action movie.
Now released on the official Kyochu Retto Anime YouTube channel(
https://youtu.be/U9PhyqQFTBA)
, Iguchi's cult following will not be disappointed with his trademark special effect cuts using gigantic life-size monster insect props.
And lo and behold, the one and only gigantic insect prop actually used on set will also available in the crowdfunding campaign's rewards lineup!

【URL】
https://www.kickstarter.com/projects/kyochu-retto/the-island-of-giant-insects-english-dubbed-final-edition
【Campaign Duration ※Pacific Standard Time.】
Friday, Feb. 14, 2020 19:00 - Sunday, Mar. 15, 2020 20:00

<Anime Movie Staff & Cast>
・Original work: Based on the comic "The Island of Giant Insects" by Yasutaka Fujimi and REDICE published on Manga Cross by Akitashoten
・Executive Director: Takeo Takahashi (Rokka:Braves of the Six Flowers, Spice and Wolf, Citrus)
・Director: Naoyuki Tatsuwa (Nisekoi, Gourmet Girl Graffiti)
・Screenwriter: Shigeru Morita (Arpeggio of Blue Steel)
・Character Design: Takayuki Noguti (Queen's Blade: Rebellion) and Takaaki Izumo
・Computer Graphics: Taro Yamada
・Animation: Passione (Rokka:Braves of the Six Flowers, Citrus)
・Mutsumi Oribe:M・A・O
・Chitose Naruse:Rika Tachibana
・Ayumi Matsuoka:Misato Fukuen
・Nami Miura:Momo Asakura
・Mirei Jinno:Chiaki Takahashi

<Website>
http://kyochu-retto.net/

<Twitter>
@KyochuRetto

<Youtube>
https://www.youtube.com/channel/UCdsytG29L7PrfXYnlxlhP2g

©Yasutaka Fujimi, REDICE(AKITASHOTEN)/Kyochu Retto Project

【PRESS INQUIRIES】
KyochuRetto PR Bureau:Koki Kitade, Midori Saito
Tel: +81 3-6450-5457 Email: kyochuretto_pr@skewinc.co.jp