Look No Further! U-mobile Prepaid SIM Card Can Now Be Purchased from a Vending Machine at Narita Airport Station
---
Just step out of Narita Airport and you will find a cheerfully colored vending machine waiting for you. Get your prepaid SIM card there and be connected right from the start when exploring Japan!
---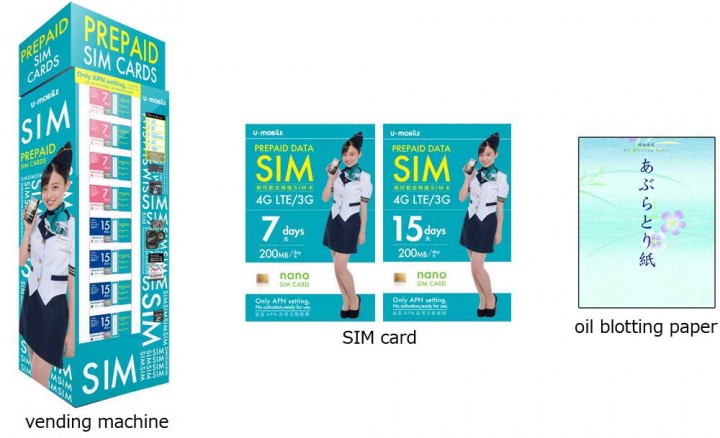 U-NEXT Co., Ltd. (Shibuya-ku, Tokyo, Japan) is pleased to announce the installation of a vending machine which sells U-mobile Prepaid, a consumable prepaid SIM card, at the Narita Airport Station on 23 March 2016.
According to the Japan National Tourism Organization (JNTO), the number of visitors to Japan continues to grow, reaching 10 million for the first time in 2013. Last year's 19.7 million was up 47.1% from the previous year, which is a record high from when the survey first began.
The inbound tourism market is therefore THE area where companies aim to strengthen their sales.
As a major mobile communication service provider in the country, U-NEXT came up with the idea of making mobile services more accessible for visitors who have just arrived in Japan.
U-mobile's turquoise blue vending machine can be found inside the Narita Airport Keisei Line Station.
The data only SIM card comes in two different kinds:
●U-mobile Prepaid 7 days
・High Speed Data Amount:200MB/day*
・Service Period:7 days
・Price:2,000 yen (including tax)
・Types of SIM card:Standard, Micro, Nano
●U-mobile Prepaid 15 days
・High Speed Data Amount:200MB/day*
・Service Period:15 days
・Price:3,500 yen (including tax)
・Types of SIM card:Standard, Micro, Nano
* Speed goes down to 200kpbs once it reaches 200MB/day until 11:59PM of that day. It is refilled to 200MB again the next day.
** Complementary blotting paper is included in the package
*** This SIM card is for data communication only. It can not be used for voice communication.
No activation is necessary. Just insert the SIM card into your device, set the APN and you are immediately connected!
The fact that U-mobile Prepaid is available just steps away from the airport will help make the traveler's adventure much more secure, easier and much less stressful.
About U-mobile Prepaid: A mobile data communication service using NTT Docomo's high-speed network. The maximum transmission speed is 225Mbps (download)*, 50Mbps (upload).
*225Mbps Maximum Download Speed refers to the peak speed obtained within the area covered by NTT Docomo high-speed network.
About U-NEXT Co., Ltd.: Established in 2009, U-NEXT Co., Ltd. is one of Japan's biggest providers of various digital content distribution services. The company also provides fixed broadband line services for housing complexes.
Having "No limit to Excitement and Joy" as their motto, U-NEXT is committed to offering the best entertainment environment via the internet.
#####
For more information, please contact
Hironobu Yoshimoto, public relations, U-NEXT Co., Ltd.
E-mail:
publicrelations@unext.jp
Tel: +81-(0)3-6741-4426
http://umobile.jp/d/lp/prepaid/eng.html