Enjoy Home Cooking With a Local Host in Japan Through airKitchen
---
A new Japanese kitchen sharing service gives travelers access to locals' home kitchens in the nation's major cities
---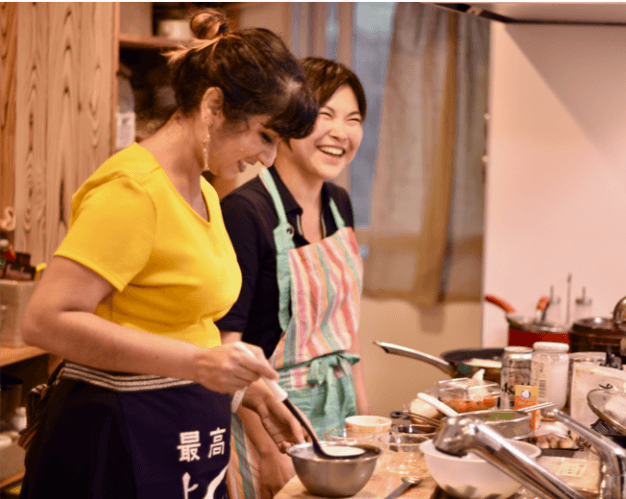 A new Japanese kitchen sharing service gives travelers access to locals' home kitchens in the nation's major cities. Called airKitchen, the service was created to give tourists the opportunity to visit ordinary Japanese family homes to prepare and eat home-cooked meals together with local hosts.
▼airKitchen HP
https://airkitchen.me/
AirKitchen is an online platform matching service that connects visitors to Japan who wish to experience cultural exchange at a Japanese family dining table with Japanese hosts who wish to entertain foreign guests with their home cooking.
Using airKitchen, foreign visitors to Japan can visit local family homes during their travels, and prepare and enjoy home-cooked Japanese meals together with a Japanese host. No Japanese language ability is required, as all hosts can speak English.
Booking is easy: all you need to do is find a host near you on the airKitchen website, send a reservation request, and once confirmed, meet your host at the train station nearest to them or at their home.
You'll learn how to cook their specialty and afterwards, enjoy the meal together with your Japanese host.
AirKitchen cooking classes allow travelers to have a more authentic and intimate experience of Japanese culture that goes beyond simply traveling from one sightseeing spot to another. The recipes and cooking skills their host shares with them moreover allows users to bring a taste of their experiences in Japan back home to share with their loved ones.
The service started in May 2018, and now there are over 1,500 cooking experiences offered by local hosts all over Japan. Every month, hundreds of travelers from approximately 80 countries learn about Japan's famous food culture through an airKitchen cooking class.
Users of the service report great satisfaction with their experience, with an average rating of 4.99 out of 5 stars across all cooking classes. Caroline, a visitor to Tokyo from Hong Kong, wrote the following review for her airKitchen experience: "My chance to have cultural exchange with a Japanese host by making Japanese food together in their home was the most memorable part of my trip. I want to make the recipes I learned there again once I get back to Hong Kong!"
With the large number of cooking experiences available through airKitchen, visitors can book the one with the best location, price, and menu for them.
Sushi and ramen making classes are incredibly popular, though classes for other classic Japanese dishes like soba, tempura, and okonomiyaki are also available. In addition, there are airKitchen experiences to learn how to make the home-style cooking enjoyed on a daily basis by Japanese families, traditional local specialties, character bento boxes inspired by anime, and more, so travelers can choose the cooking class that best overlaps with their interests, tastes, and dietary preferences. There are many airKitchen cooking experiences for vegans and vegetarians.
The airKitchen sharing service extends to many areas throughout Japan including Tokyo, Kyoto, Osaka, Hokkaido, and Okinawa. For more information, visit their website:
https://airkitchen.me/
▼airKitchen's cooking classes by area:
Tokyo:
https://airkitchen.me/list/tokyo.php
Kyoto:
https://airkitchen.me/list/kyoto.php
Osaka:
https://airkitchen.me/list/osaka.php
Hokkaido:
https://airkitchen.me/list/hokkaido.php
Okinawa:
https://airkitchen.me/list/okinawa.php
All areas:
https://airkitchen.me/
▼Here is airKitchen's promotional video:
https://www.youtube.com/watch?v=sZfiIcnEt_Q
▼Contact Information
ZAZA Inc. 
【TEL】+81-90-3002-5223
【Email】
murase@airkitchen.jp
【Address】3-1-17 Asahi, Miyoshigaoka, Miyoshi-shi, Aichi, 470-0203, Japan