Open your online course in only one minute. Create web course/ quiz/ questionnaire for free. Mogic Inc release EdTech Platform.
---
– Evolve to be an EdTech platform accessible from everywhere in the world – URL: https://limited.learno.jp/landing
---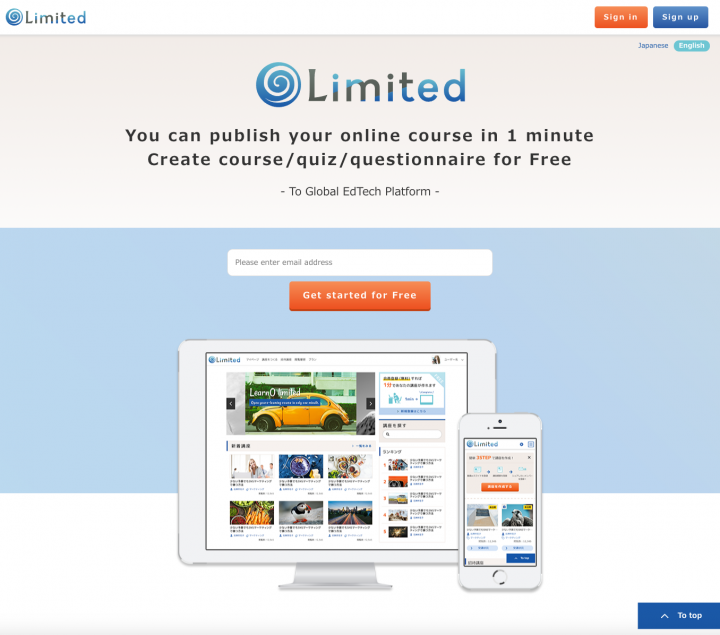 Mogic Inc. (Head office: Nerima-ku, Tokyo, President: Yoichi Yamane, hereinafter called Mogic) launched the LearnO limited service, which allows users to open their own online course in one minute.
 As more and more people are choosing life paths as freelancers and remote workers, we believe that LearnO limited is an effective tool to promote teamwork by sharing expertise through an easy online method.
You can register as a free member online and easily open a course by uploading a PDF file or a video file. You can add tests and questionnaires to your course, which allows you to confirm the status of your course's attendance. You can view your course on all of smart phone/tablet/PC devices.
[Expected use cases]
・When a freelancer wants to exclusively release materials to appeal to his/her clients only
・When a seminar instructor wants only his/her students to watch a webinar before or after class
・When a law firm specialist, such as lawyers and tax accountants, wants to deliver specialized expertise via the Internet
・When you want to try an e-learning education immediately for remote workers.
・When you want to provide online courses to offices in remote locations or abroad.
・When you want to publicize a company's expertise and find marketing trends.
[Major service features]
・Able to register as a member online (for free) and create an e-learning course, quiz, or questionnaire immediately after registration.
・Requires one PDF file (10 MB) or one video file to create an e-learning course.
・Up to 10 questions can be set to one quiz and questionnaire.
・Slideshow types of courses can be embedded in external sites.
・Able to select either a open course, which anyone can browse, or invitation course, which only a limited people can browse.
・When wanting to increase the number of invitees, paid-monthly options are available for subscription.
[Background of the service development]
  General e-learning systems provide advanced education for large organizations and equipped with many complicated features. Therefore, it had been difficult to implement and operate for beginners who would like to launch internet-based education.
 We wondered if we could provide an environment where more people could engage in internet-based education by easing the implementation processes and came up with the idea to develop this service. Although we have the concept of this easy-to-use e-learning system, there is no point if we simply minimize the features. Therefore, we developed a service by carefully selecting the expertise accumulated through the e-learning system LearnO (more than 150,000 people in companies in Japan use it per year) initially offered by Mogic.
[Portal site that collects open courses]
・open courses are available for anyone to browse, and you can access knowledge from all over the world.
・You can search for courses you like using category or search features.
[Free of charge or paid plans that members can choose]
When first registering as a member, you can subscribe free-of-charge to the Free Plan (hereinafter called the "free-of-charge plan"). It is available for a zero initial fee and no monthly fees but has limits in the number of invitation courses that you can create and the number of invitees. To increase these numbers, paid plans are also available.
 We would like to plan and develop internet-based educational services to broaden the base of the market, focusing on strengthening connections with external API services that allow the creation of educational materials.
One minute quick launch EdTech Platform, LearnO limited: 
https://limited.learno.jp/landing
<Contact for publicity and inquiries on the service >
Mogic Inc.: Ando (PR personnel)
Email address:
info@mogic.jp
<Mogic Inc. Company Profile>
Company Name: Mogic Inc.
Established: December 2009
Representative: President, Yoichi Yamane
Head Office: 1F-4F Mono Décor Shakujii Koen, 3-3-31 Shakujii-machi, Nerima-ku, Tokyo
URL :
http://www.mogic.jp/
Business descriptions :(1) Planning, producing, development, and operation of IT services
:(2) Consultation services for internet services
:(3) Operation of media services