Keigan Motor: Connected Electric Motor for Building Robots is now on Kickstarter and started turntable free gift campaign
---
Kyoto, Japan (April 14, 2017) — Keigan Inc. is having a Kickstarter campaign of Keigan Motor, which is a bluetooth-connected, brushless & gearless electric motor that makes rapid prototyping and robot-building easy. People can assign jobs to multiple Keigan Motors and make them as a robot by using Keigan apps. In addition to it, Keigan Motor can record motion by hand and works as a sensor. We have also started a free turntable option campaign for all motor backers.
---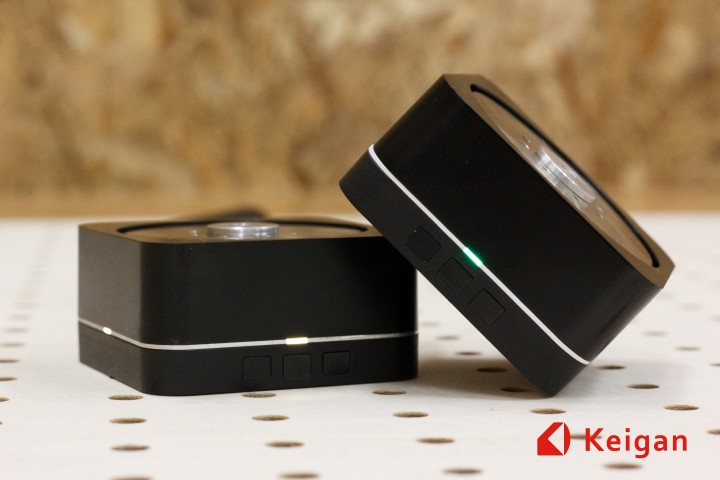 - About Keigan Motor
Keigan Motor is an all-in-one brushless gearless electric motor module, which is best for rapid prototyping. It has 3 good points. "Easy-to-Use", "High-Performance", and "Cooperatively Controllable" (2 or more Keigan Motors are able to work together simultaneously to perform more complex functions). These utilities of Keigan Motors make it possible to embody your ideas for robots and moving systems. We dream of a society where anyone can create robots which are convenient for their daily life or business easily and quickly by Keigan Motors.
- Easy-to-Use
Keigan Motor is an all-in-one electric motor module. It includes a brushless motor, a control board with a motor driver, a BLE (Bluetooth Low Energy) chip, a rotary encoder, a flash memory and a 6-axis accelerometer-gyro sensor. You can use a portable USB battery as a power source. Also, we provide useful apps for iOS and Android. As soon as you unbox your Keigan Motor and plug it into your portable USB battery, you can control it from our app in your smartphone!
- High-Performance
We also developed a high-performance brushless and gearless motor. As is well known, brushless motors have many strong points, which are preciseness, smoothness, quietness, and low-power consumption. Keigan Motor, whose maximal torque is over 2.6 lbf·in (0.3N·m) with less than 10W power consumption, rotates precisely, smoothly, and quietly. It can be controlled to any angle you like with accuracy of 0.05°.
- Cooperatively Controllable
Even a single Keigan Motor is amazing, but it's more amazing to combine multiple ones. As they don't require any wires other than power USB cables, you can design a robot with multiple motors relatively quickly. Also, we provide APIs and apps for smartphones to control them simultaneously to perform more complex functions. So you can enjoy designing and controlling your own robot.
- Additional Features
Keigan Motor has a rotary encoder and a flash memory. You can record a motion by performing a movement by hand and playback it. Furthermore, you can use a Keigan Motor as an input device by relaying angles and torques while performing a movement. Also, Keigan Motor has a 6-axis accelerometer&gyro sensor to be useful for attitude control.
- For developers
Developers can bring out the full performance of Keigan Motor easily and quickly. Complicated motion control can be achieved with light-weight code by using our SDK. Especially, you can queue multiple tasks and call them at any time you like.
Various devices (smartphone, Windows PC, Raspberry Pi,...) can works as a controller for Keigan Motor.
- Special campaign on Kichstarter
We have started a special gift campaign for all Keigan Motor backers. People who buy 1 Keigan Motor can get 1 wooden turntable option free.
The turntable is able to be attached to the top of Keigan Motor easily with a magnet. It will be a stepless programmable smart turntable that moves just as you desire.
We offer not only Keigan Motor but also Camera kit and Robot Starter kit as pledges which enables hands-on robot-building.
Keigan Motor Project is on Kickstarter untill May 6.
Visit
https://goo.gl/hC7KFU
to see the campaign.
- Media Contacts
Takashi Tokuda |
tokuda@keigan.co.jp
Keigan Inc. | CEO, Japan
Seika-cho, Souraku-gun,
Kyoto
https://keigan-motor.com
https://www.facebook.com/keigan21