VALUEPRESS! TO LAUNCH OVERSEAS DISTRIBUTION STREAM
---
An outlet for Japanese companies' press releases to be translated and distributed overseas.
---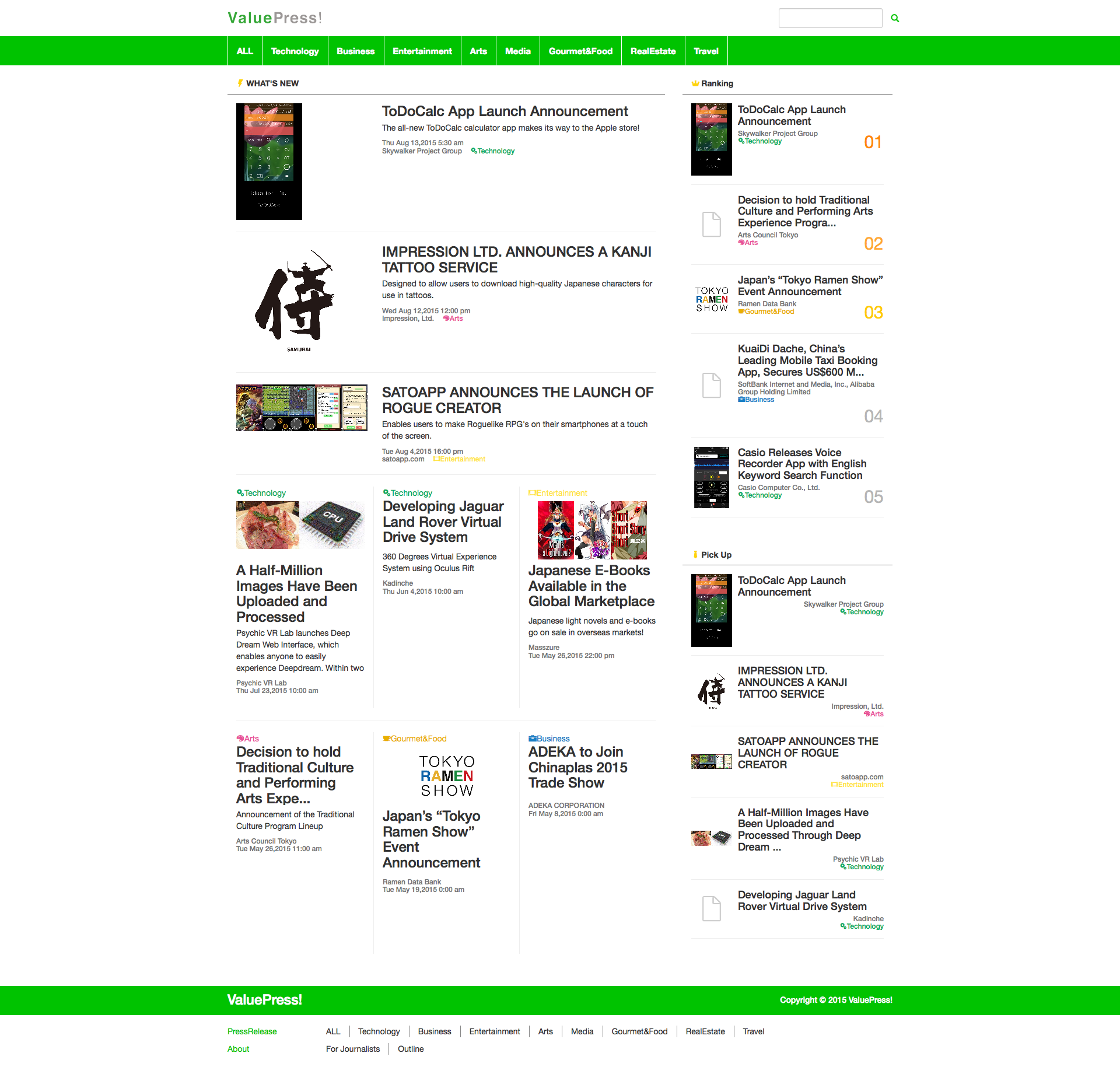 TOKYO, JAPAN – 2nd September 2015 – ValuePress! launched its overseas press release distribution stream on the 1st September, 2015. The service will aid Japanese companies, which wish to provide products and services for international customers –examples include web services, apps, games, Japanese cuisine, or even lodgings and trade shows, etc.
ValuePress!:
http://valuepress.jp/
ValuePress! believes that this new stream will provide an opportunity for international audiences to comprehend Japanese companies' activities and their products and services described as "kawaii" and "cool". Unlike other major newswire services though, ValuePress! is targeting small and medium sized enterprise (SME). With only 3,500 listed companies in Japan, but there are more than 3 million SMEs. In order to inform the world about Japan, ValuePress! believes that it is necessary for SMEs to distribute information regarding their corporate activities. 37,000 companies are already on board with its native Japanese-language stream, signaling that ValuePress! is off to a great start to collect information of SMEs.
The stream has actually been in the beta stages since December 2014, relying on a partnership with online translation service Conyac, and has distributed press releases to over 300 outlets, mostly in the U.S. Whether it's due to the advent of "Cool Japan", "in-bound tourism demand", or the 2020 Tokyo Olympics, inquiries for overseas distributions have been flooding in. As such, it was only a matter of time until the official stream would come to light. ValuePress! is aiming for the number of 1,000 translated press releases to be distributed by late 2015.
With plans to increase the number of media outlets and the web sites that the press releases are published on, as well as the implementation of an analytics tools, the future looks bright for ValuePress!
Company Contact:
Masahito Kikuchi
Senior Manager,
ValuePress!
Email:
info@valuepress.co.jp
http://valuepress.jp/
###########