Shangri-La Hotel, Tokyo Presents "Rhodes Returns To Tokyo" By Multi-Starred Michelin Chef Gary Rhodes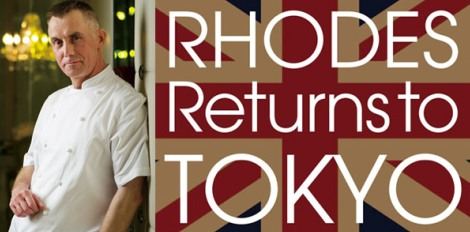 Tokyo, 20 March 2015– Shangri-La Hotel, Tokyo announces the return of esteemed British Chef Gary Rhodes for a series of culinary events called Rhodes Returns to Tokyo at Shangri-La Hotel, Tokyo from 20 to 24 April 2015 in partnership with Cathay Pacific Airways and VisitBritain.

A year after his first visit for Rhodes Across Tokyo in April 2014, Michelin six-starred Chef Rhodes will recreate his famous Afternoon Tea at The Lobby Lounge from Monday to Friday, 20 to 24 April 2015. He will also create a series of dinners in honour of the Great British Classics for which he is renowned from 21 to 23 April 2015 at the hotel's signature Italian restaurant, Piacere.

Awarded an OBE by the British Royal Family for his services to hospitality, the ambassador for British cuisine has run restaurants in his name in London, Plymouth's "Rhodes at the Dome" and P&O Cruises, Grenada, Dublin and Abu Dhabi.

In September 2014, Rhodes opened Rhodes W1 at the Grosvenor House, Dubai, a quintessentially British eatery serving nostalgic dishes from Britain, including Smoked Haddock topped with Welsh Rarebit, Steak and Kidney pudding and Chocolate 'After Eight' Slice.

Rhodes Returns to Tokyo at Shangri-La Hotel, Tokyo will culminate in a Gala Dinner on 24 April 2015 that will offer several courses of Rhodes' culinary delights, all from a great tradition of British cooking using the finest ingredients selected by the chef himself.

He will be joined by Chefs Wayne Tapsfield and Michael John Kitts.

RHODES RETURNS TO TOKYO
Period: 20–24 April 2015

ENGLISH AFTERNOON TEA at The Lobby Lounge
Date: 20 – 24 April 2015
Place: The Lobby Lounge
¥4,900 (subject to tax and service charge)

DINNER at Piacere
Date: 21- 23 April 2015
Place: Piacere
Four-course dinner ¥13,000 (subject to tax and service charge)
Five-course dinner ¥15,000 (subject to tax and service charge)
¥5,000 supplement for wine pairing (subject to tax and service charge)

GALA DINNER at Shangri-La Ballroom
Date: 24 April 2015
Time: Cocktail 7:30 p.m. Dinner 8 p.m.
Place: Shangri-La Ballroom
Five-course gala dinner ¥22,000 & wine pairing (subject to tax and service charge)

Please visit www.shangri-la.com/jp or call (81 3) 6739 7888 for reservations.

About Gary Rhodes
Rhodes is considered by many in his home country as the chef's chef, an ambassador of British cuisine who has highlighted the country's rich gastronomic heritage and who has been recognised by Queen Elizabeth II with an OBE for his work.

About Piacere
Piacere is Shangri-La Hotel, Tokyo's signature restaurant serving contemporary Italian cuisine. Its interior design has a dynamic and bold feel while being sophisticated, and features a double-void ceiling, cosy furniture, Venetian glass chandeliers and the warm colour of the Mediterranean Sea to pay homage to grand dining salons in Italy and represent the image of la dolce vita. Piacere faces the Imperial Palace and offers a metropolitan city view set around Tokyo Station, which is especially dazzling at night, when the restaurant's candle-lit room creates a dramatic atmosphere. The restaurant's two wine cellars have over 400 selections of champagne and wine. The main cellar has a ceiling height of 4.8 metres, while the other cellar has only premier and vintage wines in beautiful wooden drawers. Piacere has received Wine Spectator's "Best of Award of Excellence" for four years in a row since 2011.

About Shangri-La Hotel Tokyo
The 200-room Shangri-La Hotel, Tokyo opened on 2 March 2009 as Shangri-La Hotels and Resorts' first property in Japan. The hotel occupies the top 11 floors of the 37-floor, mixed-use Marunouchi Trust Tower Main building located adjacent and with direct access to Tokyo Station, which serves as the terminus of the Shinkansen bullet train network that extends nationwide, as well as the city's railway hub that connects local train and subway lines with regional services.

The hotel's dining facilities include Piacere, a signature Italian restaurant; Nadaman, which serves authentic Japanese kaiseki cuisine; and The Lobby Lounge. CHI, The Spa at Shangri-La features ancient Chinese healing therapies and is the first CHI spa to open in Japan. CHI offers six treatment rooms that are the largest self-contained spa suites in Tokyo.
Shangri-La Hotel, Tokyo Presents "Rhodes Returns to Tokyo"

Shangri-La Hotel, Tokyo was named "The World's Best Hotel in the World" at the 2012 TripAdvisor Travelers' Choice® Awards and earned the top spot in Institutional Investor's the World's Best Hotels of 2013.

Shangri-La Hotels and Resorts, installé à Hong Kong, possède ou gère à l'heure actuelle plus de 90 hôtels sous la marque Shangri-La, ce qui représente plus de 38 000 chambres. Les hôtels Shangri-La sont des établissements cinq étoiles luxe offrant un cadre et des services d'un grand raffinement. Les hôtels Shangri-La sont situés en Australie, au Canada, en Chine continentale, aux îles Fidji, en France, à Hong Kong, en Inde, en Indonésie, au Japon, en Malaisie, aux Maldives, en Mongolie, à l'île Maurice, en Birmanie, aux Philippines, à Singapour, au Sultanat d'Oman, à Taiwan, en Thaïlande, en Turquie, aux Emirats Arabes Unis et au Royaume Uni. Le groupe a une longue liste de projets en développement, avec des adresses en Chine continentale, au Cambodge, à Hong Kong, en Inde, en Birmanie, aux Philippines, au Qatar et au Sri Lanka. Pour de plus amples informations et pour effectuer une réservation, veuillez vous tourner vers une agence de voyage ou vous connecter à notre site www.shangri-la.com.