Shangri-La Hotel, Tokyo's Enchanting Excursions Introduces Ryokans In Hokuriku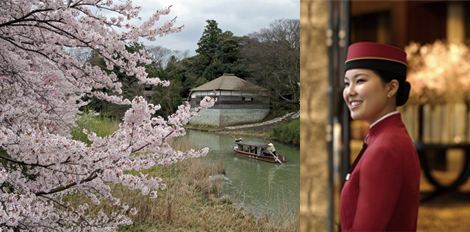 Tokyo, 13 March 2015 – Shangri-La Hotel, Tokyo announces two new destinations on its exclusive range of Enchanting Excursions, created in partnership with The Ryokan Collection. In celebration of the launch of the new JR Hokuriku Shinkansen bullet train, visitors to the Japanese capital will now have direct high-speed access to two of the country's most splendid local inns as part of Shangri-La Hotel, Tokyo's unique partnership to support its guest's exploration of Japan.
With its unique location directly above the platforms of the historic Tokyo Station, Shangri-La Hotel, Tokyo, is renowned for its Meet and Greet service in which our personal escorts guide guests from Tokyo Station's bullet train platform direct to their room. With Enchanting Excursions, we offer assistance to ensure our guests can enjoy the further reaches of Japan with the same level of dedication and hospitality. Our concierge team will help in every aspect – from booking tickets to arranging schedules – to ensure these unforgettable trips are ideal for vacationers or busy business travellers.
Our commitment to providing guests with distinctive Asian standards of hospitality and service enables us to stand out amongst our peers. This quality remains the cornerstone of our reputation, and with Enchanting Excursions we aim to provide our guests – our extended family – with access to some of the inns with the finest hospitality in the world – with reputations dating back over centuries, and many generations.
Located in northwest Honshu, in some of Japan's most tranquil and traditional regions, the two new destination options offer truly unique tailored country experiences. "Zen Experience in the Land of Sacred Yamashiro Hot Spring Town" at Beniya Mukayu offers at two-night, three-day trip in the sacred Yamashiro hot spring town of Kaga Onsen. Three hours from Tokyo by Shinkansen, Beniya Mukayu, perched on a hill overlooking Kaga city, offers an immersive and authentic Japanese stay experience.
With just 17 rooms, the ryokan offers an intimate setting best enjoyed in its outdoor hot spring bath. The bath enables guests to truly feel, smell and hear the nature around them. Guests can enjoy a traditional tea ceremony, a century-old spa treatment known as the "Entei Seijutsu-In" and fine local kaiseki-style cuisine.
Over the three days, the "Zen Experience in the Land of Sacred Yamashiro Hot Spring Town" offers guests a range of on-site and off-site options tailored to their request. On-site activities include yoga, Japanese cooking classes with an English-speaking translator, the art of kimono and calligraphy. In the local region, guests are recommended to visit the historical "golden" city of Kanazawa with its geisha district, Hokyoji Temple, the second oldest Soto temple in Japan, or the extraordinary UNESCO-listed gassho-zukuri farm houses in Shirakawa-go.
Alternatively, "A taste of Traditional Japan in a Beautiful Yamanaka Hot Spring Town" option offers two nights, three days, at The Kayotei. Located in the seemingly untouched village of Yamanaka, The Kayotei is encircled by nature both wild and manicured, with Japanese-style gardens and thick forest all around.
The Kayotei prides itself on its special connection with local artisans and organic food producers, ensuring that guests experience the true sense of the age-old Japanese lifestyle. From the interior, where local craftsmen have created wood furnishings, bowls and washi paper, to the locally produced sake and chemical-free dining, the ryokan is committed to ensuring the wellbeing of its guests' body, health and mind.
During their stay, guests can choose to visit any of more than a dozen artisans at work, such as the makie lacquerware studio, Matsuura Sake brewery or a tofu maker. Day trip options include a sacred spiritual journey to one of Japan's three holy mountains, Hakusan, a visit to the 1,244-founded Zen Buddhist temple of Eiheiji, or the stunning Kanazawa Castle and Kenrokuen Park, two of Japan's finest historical sightseeing spots.
The Ryokan Collection represents inns across Japan that have welcomed guests with warm service in a local style dating back as far as 1,300 years ago. Some 50,000 are in operation today, and the collection represents 30 of the finest, selected for their preservation of the Japanese concept of omotenashi – hospitality.
Guests for either Enchanting Excursion may utilise a complimentary package-delivery service between the ryokans and Shangri-La Hotel, Tokyo, courtesy of Sagawa Express delivery service. Please contact the hotel for more details. Similarly, guests staying at Beniya Mukayu will utilise a complimentary package-delivery between the ryokan and Shangri-La Hotel, Tokyo courtesy of Yamato Transport's Ta-Q-Bin.
Reservations may be made directly with Shangri-La Hotel, Tokyo on (81 3) 6739 7878 or by sending an e-mail to
reservations.slty@shangri-la.com
.
About The Ryokan Collection
The Ryokan Collection is the premier consortium of the finest ryokan and unique hotels across Japan. Established in 2004, they currently manage 30 high-end properties and have welcomed more than 20,000 international affluent travelers to experience the spirit of traditional Japanese hospitality and the uniqueness of Japanese culture and traditions.
About Shangri-La Hotel Tokyo
The 200-room Shangri-La Hotel, Tokyo opened on 2 March 2009 as Shangri-La Hotels and Resorts' first property in Japan. The hotel occupies the top 11 floors of the 37-floor, mixed-use Marunouchi Trust Tower Main building located adjacent and with direct access to Tokyo Station, which serves as the terminus of the Shinkansen bullet train network that extends nationwide, as well as the city's railway hub that connects local train and subway lines with regional services.
The hotel's dining facilities include Piacere, a signature Italian restaurant; Nadaman, which serves authentic Japanese kaiseki cuisine; and The Lobby Lounge. CHI, The Spa at Shangri-La features ancient Chinese healing therapies and is the first CHI spa to open in Japan. CHI offers six treatment rooms that are the largest self-contained spa suites in Tokyo Shangri-La Hotel, Tokyo was named "The World's Best Hotel in the World" at the 2012 TripAdvisor Travelers' Choice® Awards and earned the top spot in Institutional Investor's the World's Best Hotels of 2013.