Change in Exhibited Artworks at Benesse House Museum
Benesse Art Site Naoshima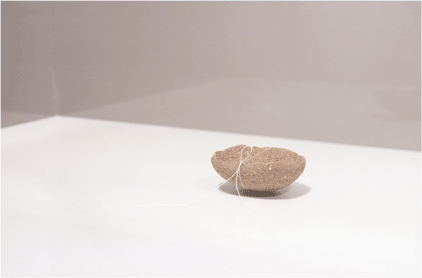 Kagawa, JAPAN - January 22nd, 2015 - Benesse House Museum has changed its permanent collection display
based on the theme, "In Nature"
The new lineup , along with already displayed site specific artworks, aims to enhance the viewers' experience of
"Symbiosis of Nature, Architecture and Art" , which is the primal concept of Benesse House Museum. One of the
featured artist is Rei Naito, whose work includes Being Given (2001 Art House Project "Kinza" ) in Naoshima and
Matrix (2010 Teshima Art Museum) in Teshima. We consider Rei Naito as one of the most important artists in
Benesse Art Site Naoshima. From our collection, Seeing off-boats (2005), which was produced using the soil and
water from Naoshima, will be on display. Another newly exhibited artwork namenlos/Licht, picturing light was produced in 2002, 2003, and 2005, during the production period of Being Given and Matrix. We think it is important to display this series in Benesse House Museum to help understand the artist' s transition.
We hope that the theme "In Nature" will resonate deeply when viewing these artworks under natural light, in combination with sceneries of the Seto Inland Sea.
■Artist Profile
Rei Naito was born in Hiroshima Prefecture in 1961. Major exhibitions and projects include Un luogo sulla terra (1997, Japanese Pavillion, 47th Venice Biennale), Being Called (1997, Galerie im Karmeliterkloster, Frankfurt am Main), Matrix (2007, Nizayama Forest Art Museum, Toyama), Tout animal eat dans le monde comme de l'eau à l'interieur de l'eau (2009, The Museum of Modern Art, Kamakura, Kanagawa), and The emotion of belief (Tokyo Metropolitan Teien Art Museum) In addition to artworks by Rei Naito, artworks by Rika Noguchi, Yukinori Yanagi, Frank Stella, Christo and Jeanne-Claude, and Bernd and Hilla Becher will be on display. We are looking forward to seeing many visitors and hope that this exhibition will provide the opportunity for visitors to contemplate the idea of Benesse (coined word based on Latin, meaning "Well-Being" ) through their experience of nature, art, and architecture in Naoshima.
■Benesse House Museum
Opening Hour 8:00~21:00(last entry 20:00) Open everyday
Admission 1,030 yen(Free admission for children 15 years old and under, and overnight guests at Benesse House)
Location Gotanji, Naoshima, Kagawa, 761-3110, JAPAN Phone +81-(0) 87-892-3223(9:00~20:00)
■Benesse Art Site Naoshima
http://www.benesse-artsite.jp/en/
850-2, Naoshima, Kagawa, 761-3110, JAPAN Phone +81-(0)87-892-2887 Fax +81-(0)87-840-8277 
B e n esse A rt Site Na o s h ima|PRESS RE L E A S E
For more information, please contact Mitsue Nagase at
BASN-press@mail.benesse.co.jp