Mitsui Fudosan to Participate in New High-Rise Condominium Project in Bangkok, Thailand (Approx. 1,200 Units) —Fourth Project in Bangkok—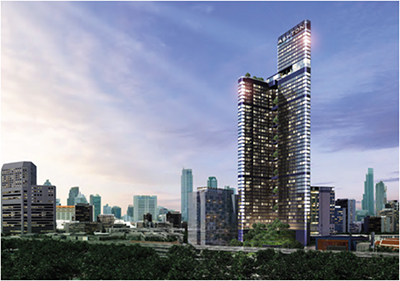 March 10, 2015
Mitsui Fudosan Co., Ltd.
Mitsui Fudosan Residential Co., Ltd.

Mitsui Fudosan Co., Ltd., and Mitsui Fudosan Residential Co., Ltd., has announced its decision to participate in a new high-rise condominium project, the "Ashton Chula-Silom" (approx. 1,200 units) in central Bangkok, the capital of Thailand, through Mitsui Fudosan Asia Pte. Ltd. (headquartered in Singapore), which is a joint venture of Mitsui Fudosan and Mitsui Fudosan Residential. The project is being carried out jointly with Ananda Development Public Co., Ltd., a leading local residential development company. With the addition of this project, Mitsui Fudosan Co., Ltd., is now carrying out a total of 12 residential projects in Southeast Asia, and that total rises to 14 if commercial properties are included as well.

This project features a 56-story, 1,180-unit (planned) residential building. The site is adjacent to the Silom-Sathorn area, and is extremely convenient position for transportation in the central Bangkok, being just a 3-minute walk from the Sam Yan MRT Station. The area is also home to Thailand's leading university, Chulalongkorn University, and numerous other educational and medical facilities, and it offers easy access to Thailand's famous 57-hectare Lumpini Park, the Siam Paragon shopping center, and other attractions, making it an exceptionally convenient area in which to live.

The Bangkok real estate market has continued to exhibit steady, long-term growth, and the increasing middle-income population is driving strong demand for residences. Mitsui Fudosan is already carrying out several projects in collaboration with Ananda Development—Ideo Q Chula-Samyan, Ashton Asoke, and Ideo Q Siam-Ratchathewi (approx. 3,000 units total)—all three of which have been selling well. This will be the company's fourth joint project with Ananda Development. In carrying out this joint development project, Mitsui Fudosan will fully utilize the expertise it has accumulated in housing development, marketing, and other areas in the course of conducting business in Japan and Singapore to date.

The Mitsui Fudosan Group has positioned overseas business as one of its growth areas. In Asia, the Group has residential projects in Thailand, Singapore, Malaysia, Indonesia, and China. The Group is also developing a number of commercial properties including the "Mitsui Outlet Park Kuala Lumpur International Airport (KLIA) (tentative name)" in Malaysia, the "Shanjing Outlet Plaza-Ningbo " and the "LaLaport Shanghai Jinqiao (tentative name)" in China, and the "Taiwan Linkou Outlet Project (tentative name)" in Taiwan. In addition, under "Innovation 2017," the company's long-term business plan through to FY2017 that was announced in 2012, the Group is planning to execute investments of approximately ¥500 billion in Europe, America, and Asia by FY2017.

■[Plan overview]
(1) Ashton Chula-Silom
Location Rama IV, Bang Rak, Si Phraya, Bangkok 10500 Thailand
Access 3 minutes' walk from the subway (MRT) Sam Yan Station
7 minutes' walk from the elevated railway (BTS) Sala Daeng Station
Site area 6,752.8 m2
Total exclusive floor area Residential area 41,542 m2
Structure 56 floors above ground
Number of units 1,180 (planned)
Schedule April 2015 Start of sales
May 2015 Start of construction
March 2018 Completion

*About Ananda Development Co., Ltd.

・Established in 1999, Ananda Development Public Co., Ltd., is a leading Thai housing developer that listed its shares on the Thai Stock Exchange of Thailand in December 2012.

・It has built a distinctive value chain with its own housing management company, real estate brokerage company, and construction company within the group. It also manages a membership organization whose members are potential customers.

・Through the mass media, Ananda Development promotes a comfortable, urban residential lifestyle, and it concentrates on properties close to downtown mass transit stations.

・It has a market capitalization of 51 billion yen (as of March 2015) and revenues of 39 billion yen (fiscal 2014).