Interactive Presentation App "Comment Screen" launched from Japan
---
You can directly communicate with your audience on the screen!
---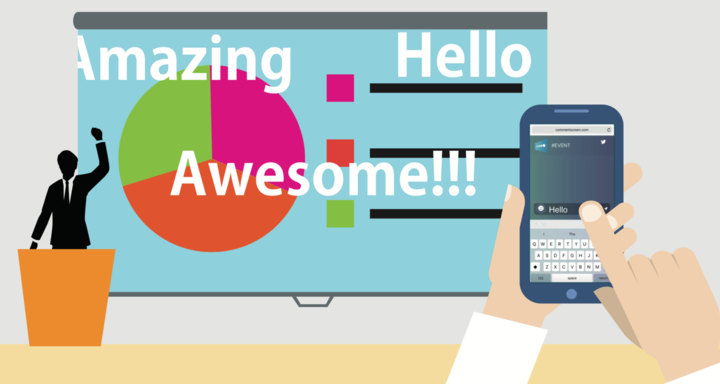 TOKYO –December 4th, 2019 –Tsukuba Future Funding (TFF), the accelerator, and Toshiki Tomihira, a "wizard" engineer, from University of Tsukuba are excited to announce the launch of their new product, "CommentScreen".
As you may know, presentations are of great importance in various fields these days; politics, business, art, management, education, team building, etc. Corresponding to this movement, there are improved presentation tools such as OHP, PowerPoint, and Prezi. However, the component of interaction during a presentation hasn't improved much. A member of the audience asks a question and the presenter answers, while the others, who might have another question, remain silent until the ongoing interaction is over. Casting Twitter timelines for a specific hashtag to the screen can gather queries or opinions from the audience, but it uses half of the screen, making the overall experience worse.
"CommentScreen" is an innovative desktop app which enables presenters to communicate with their audience on the screen. The presenter simply opens this app and creates a "comment room" before the presentation starts and shows QR code of the comment room. The audience reads the QR with their smartphone and enters the comment room. Then, the audience can send emojis or comments to the slide anytime from their smartphone.
App can be downloaded at (For Web, Windows, Mac):
https://commentscreen.com/
See the service image at
https://youtu.be/o911HDpyVZY
#########
For more information of the product, please visit:
https://commentscreen.com/
Contact Information:
Toshiki Tomihira(
commentscreen.app@gmail.com
)
* Queries in English are also welcomed