Tokyo Disney Resort® Partner Hotel Mitsui Garden Hotel PRANA Tokyo Bay Scheduled for Reopening on Friday, July 10, 2015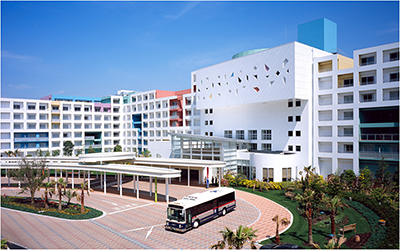 March 6, 2015
Mitsui Fudosan Co., Ltd.
Mitsui Fudosan Hotel Management Co., Ltd.
The Mitsui Fudosan Group will reopen the fully remodeled 550-room Mitsui Garden Hotel PRANA Tokyo Bay in Urayasu City, Chiba, on Friday, July 10, 2015 (scheduled).
This hotel has among the largest number of rooms of any of the 18 Mitsui Garden Hotels located throughout Japan. Since opening in June 2007, it has welcomed approximately 3.6 million guests, mainly tourist visitors to Tokyo Disney Resort® or the Tokyo metropolitan area, and has received an outstanding evaluation from guests.
In remodeling of the hotel, the designers have returned to the origins of its name, Prana (which means "life force" and "breath"), with a concept of "an urban oasis that stimulates the senses." Renovation work is proceeding with a focus on the guest room floors (all rooms and corridors) and the lobby area.
■Overview of Remodeling
1. Increased number of rooms capable of catering to groups of four or more people to meet the accommodation needs of families and groups of friends.
2. Enhanced functionality, safety and design using accent colors with a tropical fruit motif to create impressive rooms and rooms for families where people can slip off their shoes and relax.
3. Additional benches and sofas in the lobby area to provide greater comfort while checking in or out, and a newly installed Kid's Lobby (tentative name) for children to enjoy playing in.
4. Environmental considerations including LED lights fitted throughout the facility and electric vehicle rechargers installed in on-site parking lots.
* Operations will continue during remodeling with only partial closures.
■Details of Remodeled Rooms
Moderate Twin (For two to three guests)
Impressive rooms with fresh and accent colors in a tropical fruit motif. Plans include three types of color schemes: dragon fruit, orange and kiwifruit.
■Fours Balcony (For four guests)
* Room designs are the same as for Moderate Twin rooms.
■Superior Twin(For two guests)
A distinctive room filled with refreshing blue reminiscent of a waterside resort. Features spacious, semi-double beds (1,400 mm width)
■Prana Fours (For four guests)
A pleasant room where the bracing green schematic conveys the image of a prairie. The room offers ease of mind for parents of small children, and they can take off their shoes and relax there.
■Terrace Room (For 5 to 6 occupants)
Utilizing the spaciousness provided by a 3.5-meter-high ceiling, artistic plants are set up along the walls in rooms with a design rich in natural charms. A private outdoor terrace is attached to each room.
■Notice of Remodeling Commemoration Plan
Rooms will be made available for use in stages as renovations for each floor are completed. A first stage unveiling plan has been prepared to commemorate the remodeling.
Plan Name: 2015 "Room Remodeling Commemoration" First Stage - Single Night Only - Guest Room Unveiling Plan*
Sales period: March 6 to April 5, 2015 (planned)
Room rate (Applies per room and for stays only)
* This plan cannot be used for more than one night
Eligible room type No. of guests Room rate (tax included)
Moderate Twin Two people
Three people From ¥10,600
From ¥12,900
Fours Balcony Four people From ¥14,800
Superior Twin Two people From ¥12,600
Please refer to the Mitsui Garden Hotels official website for details.
https://secure.reservation.jp/gardenhotels/stay_pc/rsv/index.aspx?hi_id=6&lang=en-US
■Mitsui Garden Hotels
The Mitsui Garden Hotel chain currently operates 18 hotels throughout Japan with 4,809 rooms. The Mitsui Garden Hotel Nagoya (approx. 300 rooms) (tentative name) and Kyobashi 1-Chome Hotel Plan (approx. 240 rooms) (tentative name) are also scheduled to open in 2016.
Going forward, the Group will actively engage in new developments, mainly in major urban areas and regional cities designated by government ordinances. The Group will strive to provide services overflowing with hospitality while aiming to realize "hotels that satisfy the senses" and "hotels to remember" as "an upper grade" accommodation-style hotel.
■1. Mitsui Garden Hotel PRANA Tokyo Bay Facility Overview
Facility name Mitsui Garden Hotel PRANA Tokyo Bay
Opening date June 1, 2007
Location 6-2-1 Akemi, Urayasu, Chiba
Access By train
JR Keiyo Line, JR Musashino Line Maihama Station Approximately 15-20 minutes by Tokyo Disney Resort® Partner Hotel courtesy shuttle bus
JR Keiyo Line, JR Musashino Line Shin-Urayasu Station 10 minutes by bus; 2 minutes on foot from the bus stop
By car
Approximately 15 minutes' drive from the Shuto Expressway Bayshore Route Urayasu exit, traveling from Tokyo
Approximately 30 minutes' drive from the Higashi Kanto Expressway's Wangan Ichikawa exit, traveling from Chiba
Site area 24,702.39 m2
Floor space 40,405.36 m2
Structure Reinforced concrete construction, partial steel-frame construction, eight floors above ground (Guest room floors occupy up to the seventh floor)
Total number of guest rooms 550 rooms
Adjoining facilities Restaurant "Prana Style" (First floor)
Gift store "Disney Fantasy" (First floor)
Convenience store "Natural Lawson" (First floor)
Public Large Bath and relaxation space (Seventh floor)
Official Site
http://www.gardenhotels.co.jp/eng/prana-tokyobay/