"It's Japanese High School Musical!!" Performing on TV shows, Music Videos... "Basketball Dancers" 45 Students from Keio University releases PERFORMANCE video!
---
"SHAMGOD" A freestyle basketball performance team based in Keio University has been under the spotlight since they performed on a famous TV show "MUSIC STATION" as back dancers of a popular artist group "Little Glee Monster". They have released a brand new performance video aiming to appeal the world the magnificence of freestyle basketball.
---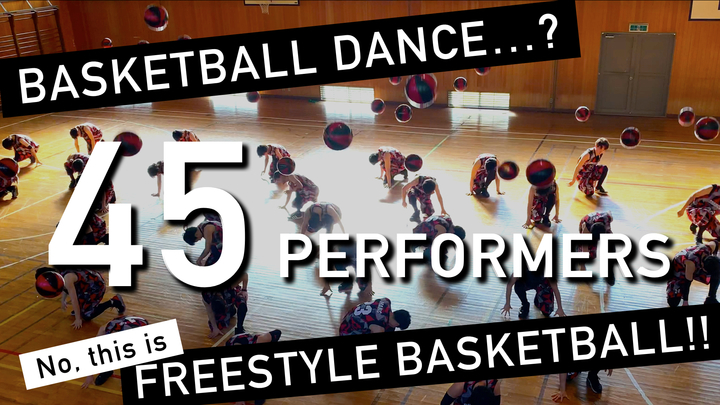 "Basketball dance? It's Freestyle Basketball!"
《URL:
https://www.youtube.com/watch?v=6HUL20fEp7k
》
• Comment from the Team leader:
Have you heard of "Freestyle Basketball?"
Freestyle Basketball originates from the handling skills from street basketball, and attracts the audience by skillfully moving around the ball using their entire body.
We have gathered attention from the media in the past as "Basketball Dance", but we perform in various stages and events so that we can reach out to the world and spread the appealing performance.
This performance video was made by student team members and former team members to celebrate the 10th anniversary of our performance team; SHAMGOD. Most team members started freestyle basketball after they have joined the team in their freshman year, but we as a team train newcomers into a proper performer.
• MUSIC used in the video
We used 10 songs composed and featured by an artist who was a former student in Keio University, and also a huge fan of basketball; Zeebra. We also used the song "Top Of the World" which was the main theme in the FIBA World Championship in 2006.
- Top Of The World
- I'm Still No.1
- I'm Still No.1 This Is The Journey Into The Future Sound Mix
- PLAYER'S DELIGHT(ZBR-5000 mix)featuring TWIGY and DEV-LARGE - PLAYER'S DELIGHT(NO LOOK PASS MIX) feat.ZEEBRA,DEV-LARGE - Let's Get It Started feat.Swizz Beatz
- CHANCE feat.ZEEBRA
- Do What U Gotta Do feat.AI, Namie Amuro, Mummy-D
- Play That Beat Feat.zeebra - Street Dreams
◆SHAMGOD
SHAMGOD was founded in 2010, based in Keio University, A freestyle basketball performance team. The members are all students from Keio University. SHAMGOD mainly performs in school festivals as well as regional events and parties. In the past SHAMGOD has performed in the Tokyo 2020 Olympics/Paralympics University Event, "a-nation 2019" in Osaka, 2nd Place in the FREESTYLE BASKETBALL BATTLE JAPAN, Featured in Little Glee Monster's music video and several TV advertisements. SHAMGOD aims for attracting people worldwide with and without the knowledge of freestyle basketball
◆What is Freestyle Basketball.
Freestyle Basketball is one of the street cultures which involves a single basketball, used freely as if the ball is part of the body. It can be performed anywhere, anytime. It involves tricky moves such as spinning, dribbling and even acrobatic moves.
◆Homepages, SNS Pages
HP :
http://shamgod.boy.jp/
Twitter : @keio_shamgod
Instagram : keio_shamgod
TikTok:@keio_shamgod
◆Contacts SHAMGOD Team Leader
Ken Mitsui
Shamgod.keio@gmail.com