【SAKAKNIFE】Safe and Easy! A whole new 4-IN-1 multi-functional single blade knife of the Master Craftsmen.A new one has appeared on the crowdfunding site "Kickstarter"!
---
◆ Each knife has been carefully made by the skilled craftsmen in Seki, a town of traditional Japanese blades. These men have poured their hearts into creating this beautiful work of art. ◆SAKAKNIFE was designed by an experienced fisherman, who is also a sculptor of Buddhist statues and Japanese animation characters! ◆A revolutionary versatile blade knife with 4 different functions, including "J-Blade tip for easy cleaning."
---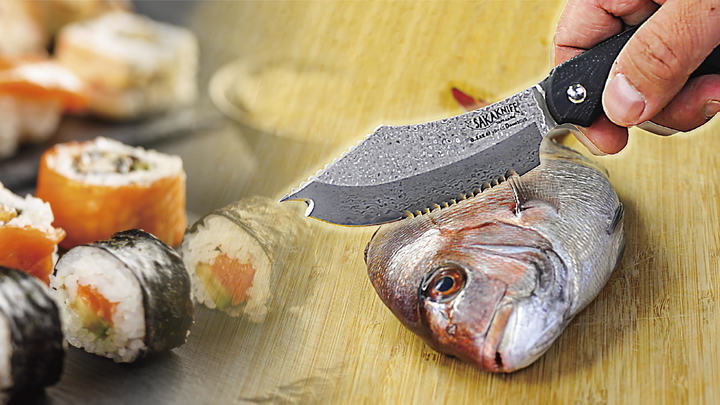 TAPP Co., Ltd. (Japan) achieved its goal at KICKSTARTER on September 2, 2019.
SAKAKNIFE: Japan's Miracle Fillet Knife
We have created a stylish and cleverly crafted multi-functional knife with innovative features that the world has never seen.
Currently, people all over the world enjoy eating Japanese food (washoku)! Washoku had been added to the UNESCO Intangible Cultural Heritage list in 2013 as Japan's traditional food culture. Healthy washoku include rich variations of fish dishes, such as fresh sushi and sashimi, simmered fish, and dried fish with long shelflife. Protein-packed seafood provides nutritious vitamins, collagen, DHA & EPA, and much more. What if you could prepare such healthy gourmet fish cuisines like sushi and sashimi in the comfort of your own home or a campground?
With SAKAKNIFE, you can easily and quickly prepare a fish while fresh both indoors and outdoors. This knife features the world's first blade capable of both cleaning and filleting a fish, which includes scraping off the fish scales, peeling the skins, and gutting the fish all on its own. SAKAKNIFE will change your cooking life forever.
Bones and fish head will make delicious dashi (broth). Deep fry the bones to make fishbone crackers as a healthy snack for children or nibbles for your drink. "Mottainai" is a phrase familiar to the Japanese for a long time. It means to have respect and a sense of gratitude for the resources around you. Having "mottainai" spirits can turn waste into a nutritional snack. By eating a whole fish, each household can cherish animal life.
The steel materials are as follows.
1. [VG-10 Steel] Sharp cutting steel that's highly durable and rust-resistant.
2. [Damascus Steel] Beautiful woodgrain patterned steel
◆Kick-starter limited edition, "Japan x Japan" model is now available! It is a Damascus blade and a Japanese lacquered grip.
We have created an easy healthy Japanese recipe book for our backers.
It is full of great recipes with how to fillet a fish with Sakaknife, to help you dive straight into cooking right after filleting a fish. We will send you this booklet together with Sakaknife. It is sure to widen and enrich your cooking life.
For more information
TAPP Co., Ltd.
Address:1181-5 Nishitakagi, Imizu City, Toyama Prefecture
https://www.kickstarter.com/projects/334197872/sakaknife-japans-miracle-fillet-knife-0/description