SHOWCASE your company at the GaijinPot Job Fair's new "Welcome to Japan Forum."
---
This November, connect with hundreds of English-speaking job seekers, new recruits and recent residents to Japan all gathered in Tokyo for a once-a-year career and living expo.
---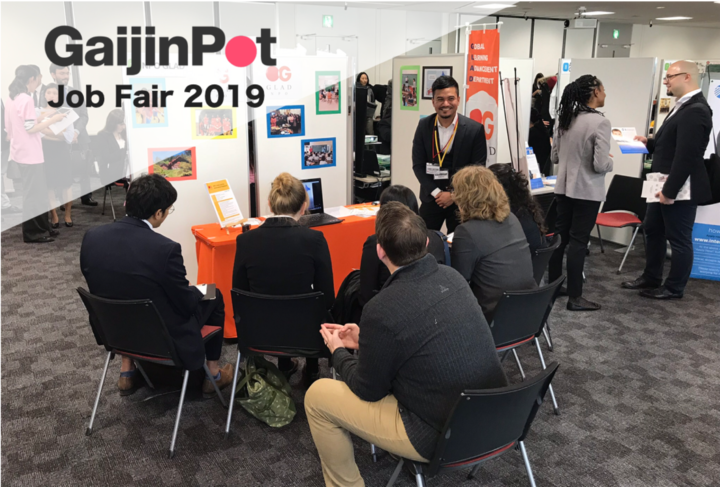 TOKYO — On Nov. 16 at Cirq Event Hall in Shinjuku, over 500 English-speaking job seekers will gather for the annual GaijinPot Job Fair. This year, along with a larger venue, there is an added "Welcome to Japan Forum" — complete with company showcase and networking area.
At the GaijinPot Job Fair's new "Welcome to Japan Forum," companies can connect face-to-face with job seekers and non-job seekers alike via booths, seminars and an open community space to share their products, services and information about living your best life in Japan.
"Having successfully completed both Tokyo and Osaka job fairs last year — and with this year being our 20th anniversary as a company — our plan is to grow this into an annual community event," says Kieron Cashell, general manager of GPlusMedia, the publisher of Japan Today and GaijinPot. "With added booths from Japanese schools, real estate companies and travel services, we'll be able to offer touchpoints to all facets of the resources we offer our users."
The GaijinPot website has grown substantially since it first launched as an information portal in 1998. It now publishes GaijinPot Study for users interested in learning or improving their Japanese language abilities, GaijinPot Apartments for those looking for a new place to live and GaijinPot Travel for up-do-date "insider" information on exploring Japan. Each of these resources will be on hand at the expo.
Other scheduled presenters will include a wide variety of schools, businesses and other organizations looking to help foreigners adjust to life in Japan. Opportunities for presenters are now open. Due to the expected high demand, there is a limited supply of just 30 company booths available.
The booths are available on a first-come, first-served basis, so Cashell recommends interested companies to register early in order to secure a spot. The deadline for booth reservations is Sept. 27, 2019.
"The GaijinPot Job Fair only happens once a year — and with the addition of our new 'Welcome to Japan Forum,' we expect a lot of Japanese companies will sign up for this unique chance to connect with clients and customers IRL," says Cashell. "So, it's a good idea register early."
Event details:
2019 GaijinPot Job Fair & "Welcome to Japan Forum"
Day: Saturday Nov. 16, 2019
Time: Noon to 5 p.m.
Location: CIRQ Event Hall, 8F IDC Otsuka Shinjuku Showroom, 3-33-1 Shinjuku, Shinjuku City, Tokyo 160-0022.
Visitor forecast: 500–600 attendees
Number of exhibitors: 30
If you'd like more information about this event, please contact Eri Shintaku, GPlusMedia Senior Consultant Recruitment Services by telephone at 03-5561-7755 or email at
eri@gplusmedia.com
.
###
About GPlusMedia:
Now in its 20th year, GPlusMedia operates six of Japan's leading English-language online brands including Japan Today, GaijinPot, Savvy Tokyo, Career Engine and Real Estate Japan. Part of the Fujisankei Communications group, GPlusMedia sites are popular with foreigners for making Japanese news, trends and lifestyle information accessible in English. With a unique database of lifestyle information gleaned from roughly 9.3 million page views and 2.2 million unique users each month, GPlusMedia provides tightly focused, effective marketing solutions for companies seeking to reach the foreign community in Japan, visitors to Japan, people around the world interested in Japan and English-speaking Japanese people with global points of view. For additional information, visit
https://gplusmedia.com/en/
.
Media files attached to this release:
1. Kieron Cashell, General Manager of GPlusMedia
2. Layout Map
3. Word Text