"COMPET Ice Mat EG Plus" for heat stroke prevention of your pet
Innovation Thru Energy Co.Ltd
---
ITE Corporation, the manufacturer of high performance ice pack "Ice BatteryⓇ", and COMBI Corporation, the manufacturer of baby and infant related products, jointly developed "COMPET Ice Mat EG Plus" under the "COMPET" brand name. The product is to prevent your pet from heat stroke. The Mat surface is kept under 28℃ for 4 hours on hot summer days. "COMPET Ice Mat EG Plus" will be on sale from early July, 2019.
---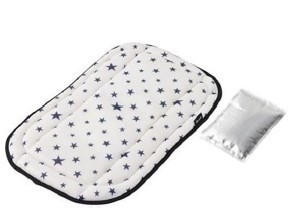 Feature of "COMPET Ice Mat EG Plus"
【Feature1】
Ice BatteryⓇ will be inserted in the mat developed by COMPET, and it will provide cooling effect on the mat surface under the ambient temperature of 40℃ (The temperature of the mat top surface with Ice BatteryⓇ was measured).
【Feature2】
The Mat can be utilized for various uses. It can be used at home, during transportation in automotive, and at destinations of your travel The Mat can be useable just as is without Ice BatteryⓇ when cooling is not needed.
<About COMBI Corporation>
Combi Corporation was established in 1957 to provide products, services, and support to individuals raising baby and infant. In the time that only tin plate potty was available, Combi developed the first swan shaped potty made by plastic and provide more comfort and ease for mother and baby. We are committed to continuously develop innovative products to provide the same support.
In order to provide the prosperous life and dream over the world, and for the peace of mindyou're your loving baby, we have group of experts for R&D and also have a strict policy of quality management.
Please contact our Consumer Plaza TEL: +81-(0)48-797-1004
<About Innovation Thru Energy Co., Ltd. (ITE)>
Innovation Thru Energy (ITE) is a Japanese company established on 2007, and is located at Tokyo, Japan. Mr Pankaj Garg, Founder & CEO of ITE has gone through a lot of research inventions, filed several significant patents and developed the world's best Cold Chain Logistics Technology: a great substitute for dry ice and legacy refrigerated trucks. The mission of ITE is to provide Cold Chain Logistics Solutions for the medical and food industries at low costs while eliminating CO₂ emission and it is environmental-friendly. ITE has developed end to end multi-temperature cold chain logistics solution that comprises air-cargo, train/sea freight and last miles delivery as land transportation. IceBattery® key factors are easy to adapt in emerging market, scalable products line-up with 'made in Japan' quality. ITE has more than 100 customers in Japan such as ANA, JAL, JR Freight, JR Kyushu, skylark and pharma.
Innovation Thru Energy Co., Ltd.
Address: Shin-Marunouchi Building 10F1-5-1, Marunouchi, Tokyo 100-6510 Japan
Website:
http://www.icebattery.jp
Email:
info@ithrue.com
TEL: +81(0)3-6206-3101