Enjoy your lunch time with "Dome-type Lunch Box with 4 levers"
---
In quest of #Simple Is Best" – 3E is the key; Easy to prepare/arrange, Easy to eat, Easy to wash
---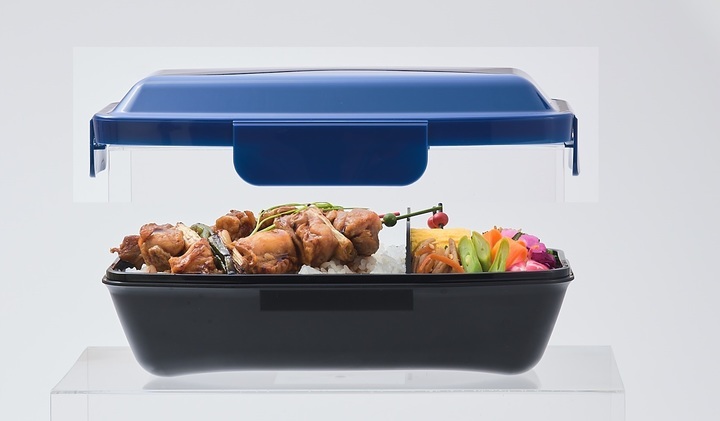 Our company started our business in general plastic housewares in1971. Around 2013, we entered market in the lunch box for adults and developed "Dome-type lunch box". We have been selling 1,300,000 lunch boxes in total. We have been engaged in product development to increase customer's satisfction since 7years ago.
Today, we would like to introduce our new product "Dome-type lunch box with 4 levers" which can change the volume of contents depending on your appetite or mood. The volume of the lunch box can be changed 750ml to 1,000ml because of its unique shape of the lid. The concept is "non-stress lunch box for everyone who prepares, eats, and washes. We stuck to our theme "To be SIMPLE" (Easy to arrange, wash, and grab to eat. Hard to leak and break) when we developed this lunch box.
■Features of lunch box
# Dome-type lid does not squash the contents and can keep the arrangement as it is.
# Handy shape.
# Easy to wash even to the corners.
# Integrated levers prevent from breakage of the hinges.
# Prevent leakage with 4 levers.
# High-partition makes it easy to arrange the foods.
# Microwavable and dishwasher-safe.
# 4 colors are available.
■Endurance test
Integrated lid and levers → Safe durability → Passed the bending test 100,000times with our safety standards
■Explanations for the illustration below
Easy to arrange and prepare
Easy to hold
Easy to wash/Dishwasher-safe
Your lunch time will be more enjoyable with this simple but functioning lunch box. For example, bringing your own lunch to work can make your life healthy and control consuming calories by arranging the contents and volume of the lunch box. Also, you can save your money. How about making lunch for your beloved one? He/She will be so happy to feel your love and appreciate your love and kindness.
★Company information★
 Komorijushi Co., Ltd.
 Address: East 3-1-11, Tamakushi, Higashiosaka-city, Osaka, Japan
 Zip code: 578-0932
 URL:
http://www.komorijushi.co.jp
 TEL: 81+72-966-1655 Fax: 81-72-966-1652
★Contact information★
 Person in charge: Kasai
*Please contact me by E-mail
 Mobile: 81+90-3168-2701
 Mail:
kasai@komorijushi.co.jp