Shitamachi t Pro celebrates successful launch of its debut 'history plus snacks' Tokyo experience
Shitamachi t Pro Co., Ltd
---
Small company gets big love for its unique, affordable, and delicious tour of Tokyo's historical Asakusa district
---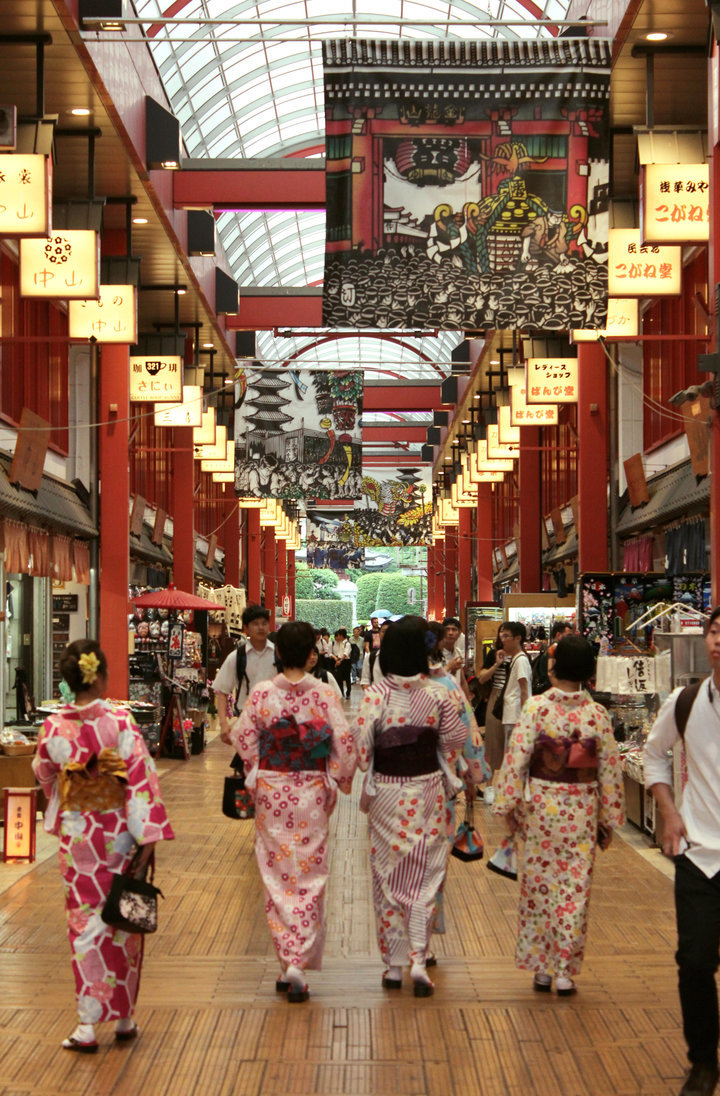 Tokyo, Japan: Shitamachi t Pro this week celebrates the successful launch of its walking tour of Asakusa, the famous historical district at Tokyo's heart. Available through Airbnb Experiences and the Viator network of booking websites, this 3.5-hour tour boasts "1400 years of history, with snack breaks" and, in its first two months, has received universally positive responses from English-speaking travellers of all ages and ten different countries.
"We left feeling more cultured and also full from all the snack breaks."
— from Australia
"I can't speak Japanese, and even my English is not good, but my guide made a great effort to let me understand. My guide was a good storyteller."
— from Hong Kong
"This tour was amazing; a major highlight for me and my friend. Our guide showed us places in Asakusa that were related to what we were interested in. He knew about everything we asked about. We were given chances to participate in Japanese rituals as long as we felt comfortable with it, which included praying, getting fortunes and more."
— from the United States
"Our guide really took the time to show us the less touristy spots. If you want a more authentic way of seeing Asakusa, just book this tour and you'll be set."
— from Australia
"I highly recommend this experience, you won't be disappointed!"
— from France
The unsolicited quotes above convey a little of what guests can expect from this deep journey through Asakusa, taking in both the essential Sensoji temple, with its iconic 'Thunder Gate' and giant red lantern, and the winding streets of the colourful yet lesser-known Rokku district.
Guests will also enjoy a selection of traditional Japanese sweet snacks, courtesy of Shitamachi t Pro, such as freshly-made 'melon pan', a sweet bread known worldwide through Japanese pop culture.
Shitamachi t Pro is also happy to confirm that the discounted launch price for this unique and memorable travel experience (8000 Japanese yen, down from 11,000) will remain in effect for the near future, so that even travellers on a budget can take away more than mere snapshots from this very special Tokyo neighbourhood.
About Shitamachi t Pro: Based in Asakusa, Tokyo, Shitamachi t Pro is a small company specialising in guided tours and cultural experiences set in Tokyo's historical Shitamachi area, where every sight is a story. The company limits its scheduled tours to a maximum of six people. Private and custom tours are also available by arrangement. Shitamachi t Pro opened in October 2017, supported by the 'Entrepreneurship of Women, Youths and Seniors' program sponsored by the Tokyo municipal government and Taito ward.
** URLs **
Tour website:
https://www.shitamachitpro.com/tours
Book through Airbnb:
https://www.airbnb.com/experiences/263400
Book through Viator:
https://www.viator.com/tours/Tokyo/Asakusa-Past-and-Present-Small-group-Walking-Tour-with-Snacks/d334-74853P1
** Address and contact info **
Shitamachi t Pro, Inc.
President: Yoko Kanno
5F Matsugaya 213 bldg.
1-1-1 Matsugaya, Taito-ku
Tokyo 111-0036
JAPAN
Email:
media@shitamachitpro.com
TEL: +81-3-5830-6790
FAX: +81-3-5830-6791
Instagram:
https://www.instagram.com/shitamachi_t_pro/
Facebook:
https://www.facebook.com/shitamachitpro