Online School MANABI JOURNEY Reveals English Version for "Manga Drawing / Comprehensive Course"
---
~Japan Animation & Manga College Manga Course Taught by Professionals in a one-on-one Setting Announces English Version!~
---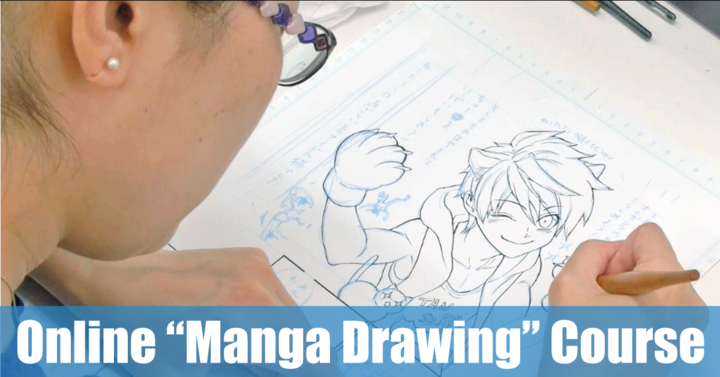 FOR IMMEDIATE RELEASE
NIIGATA, JAPAN -- June 1, 2018 -- WENet Inc., a company specializing in the development and supply of original teaching materials, is proud to announce the debut of the English version for their "Manga Drawing / Comprehensive Course" available via MANABI JOURNEY, an online school based in Niigata Prefecture, Japan. Manga ("Japanese Comic") has been vastly growing in popularity as of late leading more and more people to want to not only read manga, but create their own as well and become a professional Manga Artist ("Mangaka").
Under the direct supervision of Japan Animation & Manga College ("JAM"), a course teaching the techniques on how to create manga has been developed by MANABI JOURNEY. Their slogan is "An online school where people can study from all over the world." This course will allow anyone from anywhere in the world to not only learn REAL manga drawing techniques, but will also allow them to follow along with English subtitled lessons, English materials, and receive REAL feedback in English!
Benefits of the "Manga Drawing / Comprehensive Course" English Version
1. JAM's REAL Curriculum Has Produced More Than 100 Professional Mangaka!
The original lecture, which began in 2000, has produced more than 100 real professional mangaka under the careful supervision of JAM, and now these lectures featuring current instructors have been recorded in vivid, high resolution. This means that you can rewatch the videos whenever, wherever, and however many times necessary allowing you to see detailed pen strokes from professionals that are normally easy to miss. Another benefit is this course comes with English subtitles and materials meaning that you do not need to speak Japanese to learn. Furthermore, feedback is given by real, current instructors at JAM.
2. No Matter Where You Are in the World, You Can Always Get Real One-on-One Feedback from Real Japanese Professional Instructors in English!
No more just watching videos and that be the end of it. These Japanese professional instructors are able to give you one-on-one feedback in English. There are also special social media accounts created to help you connect and interact with your fellow classmates as well as with instructors with tutoring even being a possibility. Whether you are a beginner or an expert, you will see an improvement.
3. Once Paid, The Course Does Not Ever Expire!
In order to support those who truly do want to learn, MANABI JOURNEY has decided to allow all users to be able to access the course and materials indefinitely** at no extra cost. This includes feedback as well! Even if you have finished the course, you will be able to review lessons as well as stay connected with the social media accounts allowing you to make use of all of the assets that have been assembled here for you for forever!
**Access to the course will be extended by 90 days every time you log in after the initial 12 month period.
About the "Manga Drawing / Comprehensive Course"
Name:
Manga Drawing / Comprehensive Course
Course Fee:
70000 JPY (This includes all fees for feedback)
Course Organization:
The Course consists of three parts: "Manga", "Drawing Techniques", and "Digital Comic". (This includes 5 feedback sessions and a standard learning period of 12 months )
Who the Course Is for:
Anyone who wants to be a professional mangaka regardless of their current skill level.
URL:
https://tour.manabijourney.jp/mangadrawing/
About MANABI JOURNEY
MANABI JOURNEY is an online school (e-learning) where people from all over the world come to study. Their goal is to continue to develop Cool Japan-friendly lectures that teach about Japan and Japanese culture to people all over the world. MANABI JOURNEY is also expanding its IT and Business courses available domestically. For more information, please visit
https://manabijourney.jp
About WENet
WENet Inc. was founded in 1983, and for over 30 years has provided various educational services in regards to technical training, educational materials, and textbook creation for any person, educational institution, or business who comes into contact with the concept of "learning". For more information, please visit
https://www.wenet.co.jp
Press Contact
qdopp, Inc.
Joshua Hardy
press@qdopp.com