Kashimada Station Western Area Redevelopment Project Shin-Kawasaki Square with 18 Shops to Open on Thursday, March 26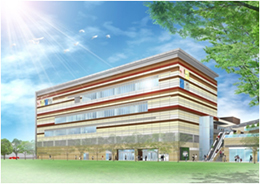 February 3, 2015
Mitsui Fudosan Co., Ltd.

Mitsui Fudosan Co., Ltd. is moving ahead with the development of a retail facility in the Kashimada Station Western Area Redevelopment Project. On Thursday, March 26, the completed project will open under the name "Shin-Kawasaki Square" with 18 shops.

The facility is located halfway between Shin-Kawasaki Station on the JR Yokosuka and Shonan Shinjuku lines and Kashimada Station on the JR Nambu Line. An elevated passageway connects those stations with the third floor of the facility. By providing shops that meet the everyday needs of people who use the station, neighboring residents, and workers, many pedestrians will pass through the facility and turn the square into a bustling plaza.

Major Shops

1st floor: Maruetsu Supermarket
3rd floor (connected to the station by elevated passageway): CAFÉ COLO+ (a new format from Dotour Coffee), Resona Bank, The DAISO and Sushiro.
4th /5th floor: Jexer Fitness & Spa fitness club
The redevelopment project is positioned as a "hub for community life" in the plans of Kawasaki City. Mitsui Fudosan seeks to increase the transportation node functions of the project by upgrading the urban infrastructure including roads and plazas, while aiming to create safe and highly attractive communities with superior convenience that harmonize with the commercial and residential functions.