Progate Releases Programming Learning App "Progate" for iOS/Android Users
---
Learning practical programming skills made possible on your mobile phone
---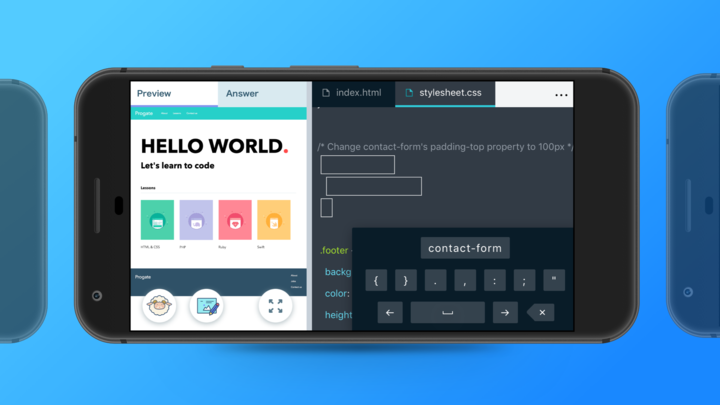 Tokyo, Japan, May 14, 2018 - Progate announces the release of the programming learning mobile app "Progate" for both iOS and Android users worldwide.
The web service Progate has over 300,000 users mainly in Asia and is the largest online programing learning platform in Japan. The newly released app enables users to learn practical programming skills easily, as the level of the content is equivalent to that of the web version. Also, users can practice coding on the smartphone-optimized dril screens and keyboards. This service is unprecedented in the world and assists those who have no coding experience to start learning to code. For users who want to learn more, the Progate web will provide more fully-fledged learning environment.
Masa Kato, CEO of Progate, comments that "Progate is the best solution for those who are interested in learning to code but do not know how to start. Unlike conventional programming quiz apps, we offer a practical learning experience that will help you build full-stack applications.. I am very pleased to release this app to help beginners all over the world learn coding in a fun way."
Demo Video URL:
https://www.youtube.com/watch?v=QUyHlfM0YO8
Features of the Progate app:
- Intuitive slides with descriptive images that enable you to easily grasp the information and learn at your own pace.
- Smartphone-optimized practice screens and keyboards.
- A real-time preview of your code.
- A learning experience as enjoyable as a game.
AppStore URL:
https://itunes.apple.com/app/id1335868128?mt=8
Google Play Store URL:
https://play.google.com/store/apps/details?id=com.progate
Price: Free
Languages you can learn in the app include:
HTML & CSS, JavaScript, Ruby, Python

Bringing creativity to everyone, everywhere.
Progate started when its founders were inspired to empower others through programming in July 2014. Progate's vision is to bring creativity to everyone, everywhere by providing the best learning environment in which beginners can learn programming while having fun.
Masa Kato co-founded Progate in 2014 and was selected by Forbes ASIA as one of the 30 entrepreneurs under 30 in March, 2018. Progate is now one of the largest online programming learning services in Japan with over 300,000 individual users and is used for self-study, in the classroom, and corporate in-house training.


Company Name: Progate, Inc.
CEO: Masa Kato
URL: https://progate.com


Progate, Inc.
PR: Reina Masumoto
Phone: +81-(0)3-6455-0950
E-mail address: masumotoreina@progate.com