DigiOn, Inc. releases a music player that let you enjoy a world of Hi-Res music.
---
Sound reproduction that is authentic in every detail.
---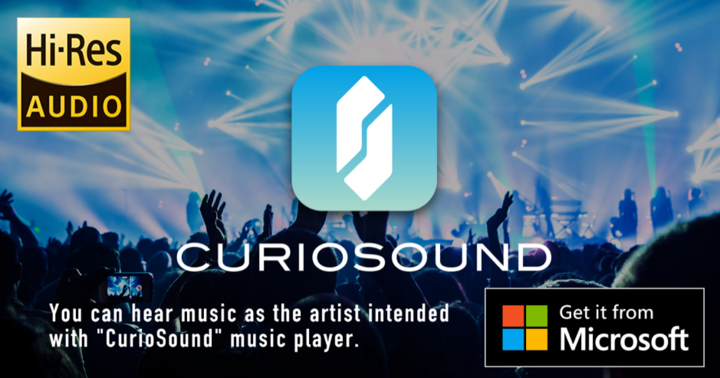 For Immediate Release
April 4, 2018
Fukuoka, Japan – DigiOn, Inc. is delighted to announce the launch of the CurioSound app, available on the Microsoft Store from April 5. This stylish, user-friendly music player upgrades conventional music files, such as compressed tracks and CD sound sources, almost to the ideal level of high-resolution sounds quality, accompanied by reconstructed details and tones.
"Our Hi-Res audio player was designed to entertain the most critical audiophiles and music lovers," said DigiOn CEO Hisatoshi Taura. "Our cutting-edge technology, known as 'CQe,' breathes a new life into your music, restoring compressed files, such as MP3 and AAC, almost to the perfect high-resolution audio quality that has been missed out during the compression process so far."
Crucial data is lost while you are listening to MP3 and AAC music due to lousy compressions. By comparison, Apple Lossless Audio Codec (ALAC) and Free Lossless Audio Codec (FLAC) can work as formats that save your music without missing every detail.
CurioSound upgrades the audio file to a High-Resolution Audio file (ALAC, FLAC) and reproduces clear high-range sounds that are often lost. For instance, this easy-to-use audio player converts 44.1 KHz/16 bit sampling frequency of CDs to a sampling frequency of 96 kHz/24 bit by recreating higher frequency signals. What's more, it enables to export Hi-Res music files and import them to your computer, thereby escorting you to a world of Hi-Res music on your portable sound player wherever you go.  
About CurioSound:
Release date: April 5, 2018
Microsoft store URL:
https://www.microsoft.com/store/apps/9PM9G44XHFTX
Price: USD34.99 (※ 15-day free trial)   
About DigiOn, Inc.:
Founded in 1999 in Fukuoka, Japan, DigiOn, Inc. has been developing sound products over the past two decades. The software company provides various sound and audio-related applications based on its voice processing technology, DigiOnSound, which boasts the longest history among all of its products. DigiOn continues to produce innovative software as solutions for a wide-ranging need.
#####
For more information, please contact:
Eiji Kawamura
Marketing Division
DigiOn, Inc.
(+81) 92-833-6280
https://www.digion.com/en/