Mitsui Fudosan to Participate in "Fifty Five Hudson Yards" Project, Part of Largest-Ever Private Development in the US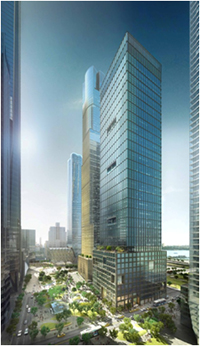 January 26, 2015
Mitsui Fudosan Co., Ltd.

Mitsui Fudosan Co., Ltd. (Head Office: 1-1 Nihonbashi-Muromachi 2-Chome, Chuo-ku, Tokyo) announced today that through its US subsidiary, Mitsui Fudosan America, Inc. (President and CEO: Yukio Yoshida), it will participate in a New York office building development project. The project will construct one of the office buildings making up Hudson Yards, the largest-scale complex development in Manhattan, and measured by gross floor area represents the largest office building development project ever undertaken in Manhattan by a Japanese company. The building commenced construction last week and is scheduled for completion in 2018.

Hudson Yards is the largest private development project in the United States. The project is located at west Manhattan, development projects are proceeding. It will create some 11 hectares of space in total, and will encompass five office buildings occupied by tenants including the headquarters of Coach, Inc., L'Oreal USA, SAP and Time Warner Inc., a shopping complex boasting Manhattan's first Neiman Marcus store, high-rise condominiums, a luxury hotel, a culture space and a school. Part of the 1.6 hectare Hudson Park & Boulevard planned for the northern boundary of the development and directly adjacent to Fifty Five Hudson Yards will open soon, and the already fully opened High Line, a park built on an abandoned elevated freight line, will also connect to the site. The development is led by Related Companies ("Related"), a prominent international real estate firm, and Oxford Properties Group ("Oxford"), the real estate investment and development arm of OMERS (Ontario Municipal Employees Retirement System), one of Canada's largest institutional investors.

Housing mainly office space, Fifty Five Hudson Yards will have 51 floors above ground and a total gross area of 118,000 m2. It is located nearby a subway station, the Hudson Park on the entrance side, and Hudson River on the west side. This state-of-the-art office building will have floor plates facilitating efficient layouts, terrace space with views over the Hudson River and the Park, high environmental spec subject to approve the LEED Gold Certification and its exterior will incorporate designs used in the cast iron architecture characteristic of the SoHo district's 19th century buildings. The construction will be a joint project with Related and Oxford, the leaders of the Hudson Yards development.

Mitsui Fudosan regards Fifty Five Hudson Yards as a flagship building that will be at the core of its portfolio for future overseas business. As well as offering an opportunity to expand the company's overseas operations, the project will utilize expertise built up through the multi-faceted urban development and neighborhood creation that Mitsui Fudosan has undertaken in Japan to add further value to the Hudson Yards project.

Having positioned overseas business as a growth area, the Mitsui Fudosan Group is engaged in several types of projects in Europe and America, including office and rental apartment developments, in the aim of building a high-quality portfolio, adjusting the social and economical situation. Including the Hudson Yards project, Mitsui Fudosan America currently owns or is developing six office buildings in New York, Washington D.C., and San Francisco. Mitsui Fudosan plans to expand its rental apartment business and operates two hotels in Hawaii, including the Halekulani Hotel. In the UK, the Group is developing several office buildings and commercial complexes in London. Released in 2012, the Group's long-term business plan for the period to fiscal 2017, "Innovation 2017," sets a target of investing approximately 500 billion yen in Europe, America, and Asia (outside Japan).

■Property Overview
Property Name Fifty Five Hudson Yards
Location 55 Hudson Yards, New York, NY
Structure 51 floors above ground
Site area Approx. 40,000 ft2 (approx. 3,700 m2 )
Gross floor area 1,265,700 ft2 (approx. 117,600 m2)
Standard floor area: approx. 23,000 ft2 (approx. 2,100 m2)
Main application Offices and commercial facilities
Design Kohn Pedersen Fox Associates
Schedule Construction start (planned) 2015
Completion (planned) 2018

■Hudson Yards Overview
Hudson Yards is situated for highly convenient access to public transport. The No. 7 subway line linking Times Square and Grand Central Station is being extended to the development, and Penn Station, the departure point for long-distance trains as well as Long Island Rail Road and New Jersey Transit services, is within walking distance.

Plans for the development include five state-of-the-art office buildings, more than 100 stores, restaurants, about 5,000 residences, unique cultural facilities, approximately 6 hectares of public open space, a public school, and a 175-room luxury hotel. Hudson Yards is a rare example of a central city development that features ample greenery and space for relaxation.