Name of the Hokuriku Area's First Full-Scale Outlet Mall Finalized as Mitsui Outlet Park Hokuriku Oyabe with the Opening Set for Mid-July 2015
---
A List of 129 of the Mall's Approximately 160 Stores Announced, Joint Recruitment and Interviews to Begin January 31, 2015
---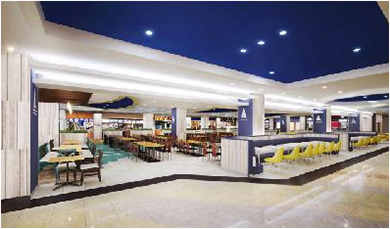 January 22, 2015
Mitsui Fudosan Co., Ltd.

Mitsui Fudosan Co., Ltd. announced today that it has finalized the naming of its 13th Mitsui Outlet Park, under development in Oyabe City, Toyoma Prefecture, as Mitsui Outlet Park Hokuriku Oyabe, along with a list of 129 of the mall's approximately 160 planned store openings. Included in the list are local stores from the Hokuriku area, and seven stores that will open in an outlet mall for the first time. The mall is scheduled to begin operating in mid-July 2015.

Mitsui Outlet Park Hokuriku Oyabe will be the first full-scale outlet mall in the Hokuriku area, and will reflect the expertise Mitsui Fudosan has nurtured from its 12 existing outlet parks in Japan. To respond to customers' needs, Mitsui Fudosan is developing a major fashion center bringing together various genres of fashion in one spot, including sophisticated brands from Japan and abroad, famous sporting good brands, and fashion accessories. Apart from outlet stores, a wide variety of restaurants and local produce stores will be opened in the mall for customers to enjoy the local attractions of the Hokuriku area.

Starting tentatively from January 31, 2015, joint recruitment and interviews of job applicants for the stores in the mall will be conducted in stages.

The decision to open the Hokuriku Shinkansen Line on March 14, 2015 is expected to drive an increase in inbound tourists to the Hokuriku area, not only from elsewhere in Japan, but also from overseas, and from Asia in particular. In response to the tourists from abroad, Mitsui Outlet Park Hokuriku Oyabe plans to house a foreign currency exchange machine in addition to the amenity features such as prayer rooms, free WiFi spots, and multilingual guidance implemented in other Mitsui Outlet Parks. The new mall will also develop measures for visiting customers to encounter and browse through tourist attractions of the Hokuriku area by collaborating with the numerous local tourist destinations and opening local produce stores and a tourist information booth.

The mall will be located beside National Route 8, 3 km from the Fukuoka interchange of Noetsu Expressway and approximately 8 km from the Oyabe interchange of Hokuriku Expressway, giving it outstanding access by road not only from Toyama Prefecture but also across a broad area encompassing the entire Hokuriku area.

The planned facility will be a two-story, enclosed mall, taking into account the Hokuriku area climate, on a site of approximately 130,000 m2 with gloss floor space of approximately 45,000 m2 and a combined floor area of stores of approximately 26,000 m2. Under a construction concept of an overlapping and interlocking space, the mall will utilize its location in scenic Toyama Prefecture to blend the prefecture's natural and cultural surroundings with a sophisticated shopping environment. Plans also call for approximately 2,800 parking spaces.

■Overview Plan for Mitsui Outlet Park Hokuriku Oyabe
Location 1-1 Washiba, Nishi-Nakano, Oyabe City, Toyama Prefecture
Construction area Approx. 130,000 m2
Structure Steel structure, two floors
Gross floor area Approx. 45,000 m2
Store floor space Approx. 26,000 m2
No. of stores Approx. 160 stores (planned)
Parking spaces Approx. 2,800 spaces
Access About 2 km from the Isurugi Station, JR Hokuriku Main Line
About 3 km from the Fukuoka interchange and approximately 6 km from the Oyabe Higashi interchange of the Noetsu Expressway
Approximately 8 km from the Oyabe interchange of Hokuriku Expressway
Schedule Start of construction: July 4, 2014
Opening: Mid-July 2015 (planned)
Environmental design Fernando Vazquez
Design and construction A consortium established between Kumagai Gumi Co., Ltd. and Ishiguro Corp., Ltd.
Design supervision and supervision management Tokyu Architects & Engineers Inc.
Operation and management Mitsui Fudosan Retail Management Co., Ltd.