Evolutionary Fishing Game App 'FLY FISHING 3D II', Now Released for iOS and GooglePlay in September 25.
---
With 4 Million Worldwide Downloads, FLY FISHING 3D Evolved Ever!
---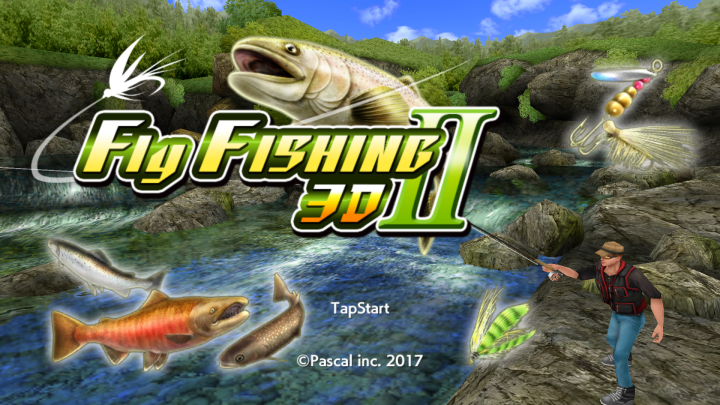 Dear game site
Press Release
Osaka, September 25, 2017: PASCAL INC. (Headquarters: Osaka-shi, Osaka, Japan. CEO: Masaki Yamashita) is pleased to announce the release of the game app 'FLY FISHING 3D II' on September 25, 2017.
'FLY FISHING 3D II' is an updated version of 'FLY FISHING 3D', a fishing game app which has recorded a total of 4 million worldwide downloads. You can experience fly fishing with beautifully evolved 3D graphics!! Also, this fly fishing game became more exciting by adding underwater camera, getting new fly actions, breathtaking fight scenes, and competing with NPCs.
Main Features:
1) Beautifully evolved 3D fishing fields
There are 3 area and 24 fishing fields to enjoy!
2) The camera works that can feel the flowing fly!
You can appeal aimed fish by watching underwater camera that pursue the fly.
3) Upgraded fly actions!
Fly actions are easily executable by tapping action button!
Use it wisely and appeal the big fish!
4) Fight system reborned!
Operate the rod intuitively according to the big fish's movement, and reel the line at the best timing!
5) More varieties in game modes:
Tournaments: Compete against worldwide players and compare fishing results.
Missions: Challenge the missions in the 144 levels.
Free Fishing: Enjoy fishing in one's favorite condition.
For more information, please visit the following website:
https://www.youtube.com/watch?v=hif1uEdyJfQ
http://www.pascal.jp/fly2/pc.html
For free downloading:
【for iOS】
https://itunes.apple.com/us/app/fly-fishing-3d-ii/id1276052852?mt=8
【for GooglePlay】
https://play.google.com/store/apps/details?id=co.jp.pascal.flyFishingII&hl=en
Basic information:
Title: FLY FISHING 3D II
Category: Sports
Release Date: September 25, 2017
Price: Basic play is for free (with some In-App purchasing)
Memory: Requires more than 1GB
Compatibility: iOS 8 or later, android 4.1 or later
About PASCAL INC.: Established in 1998 in Osaka, the second largest city in Japan, PASCAL INC. specializes in planning, development and management of game applications for smartphone as well as software development on contract basis.
#####
For more information, please contact:
Sanae Horino
PASCAL INC.
E-mail:
press@pascal.jp
http://www.pascal.jp/fly2/pc.html