English Version of Popular Stock Photo Download Website Rolls out for International Users
---
It is easy to locate and download free graphics for unlimited use on websites, catalogs, displays ? even commercial ads and publications
---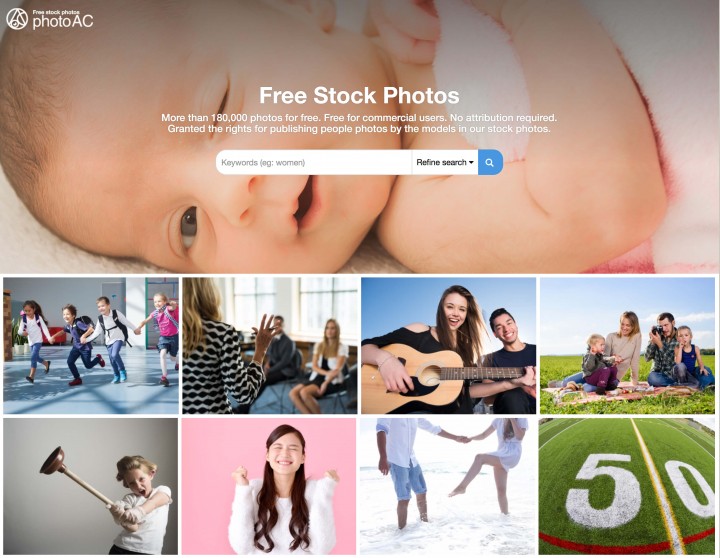 For Immediate Release:
June 23, 2017
Osaka, June 23, 2017, ACworks is pleased to announce that it has launched an English-language version of its "photoAC", one of its three kinds of vector art, stock graphics and images websites which allow users to download graphic content for free of charge, for both a private and a commercial use. The company has already attracted over 2.3 million users in Japan and is now expanding its operations in the rest of the world. It also plans to roll out English versions of other two websites, "illustAC" and "silhouette AC" in the near future.
Though there are already many stock photo websites in the world, most of them do not obtain full waivers from the models in the pictures. This can create problems if the photos are used for commercial purposes. Unlike most existing websites, ACworks obtained full waivers from photographers, and models alike, so rights issues are not a concern.
photoAC is easy to use. No registration and no application required, there are no watermarks or restrictions, no need to provide credits of sources, and no limit on the size or the number of downloads. All images in the company's database are free.
An English language version of the "photoAC" website is now available at
https://en.photo-ac.com/
. ACworks plans to release international versions of all of its three websites, providing other graphic content and other language options in the future. ACworks aims to attract over 20 million users worldwide, by 2020.
About ACwrks: ACworks operates three popular vector art, stock graphics and images websites in Japan, including "illustAC", "photoAC" and "silhouetteAC". The company's graphics are used by designers, bloggers, website operators and commercial users alike, for websites, TV and print ads, books, magazines, catalogs, and more.
#####
For more information, please contact:
Mr. Yoshihito Nakano
ACworks Co.,Ltd.
1-17-17 8F, Edobori, Nishi-ku, Osaka City, 550-0002 Japan
E-mail:
info@acworks.co.jp
URL:
https://en.photo-ac.com/