Maid Cafe "maidreamin" song chosen as official theme song for Anime Expo 2017! Maidreamin achieves remarkable feat with second consecutive invitation to Anime Expo!
Neodelightinternational Inc.
---
"When it comes to anime conventions, everyone knows Anime Expo." "When it comes to maid cafes, everyone knows Maidreamin." Japan's largest maid cafe chain "maidreamin" has been invited for the second year in a row to Anime Expo, North America's largest anime convention, which has in previous years hosted performances by the likes of AKB48, Momoiro Clover Z, and Morning Musume. In the 26-year history of this convention, receiving an invitation in two consecutive years is extraordinary.
---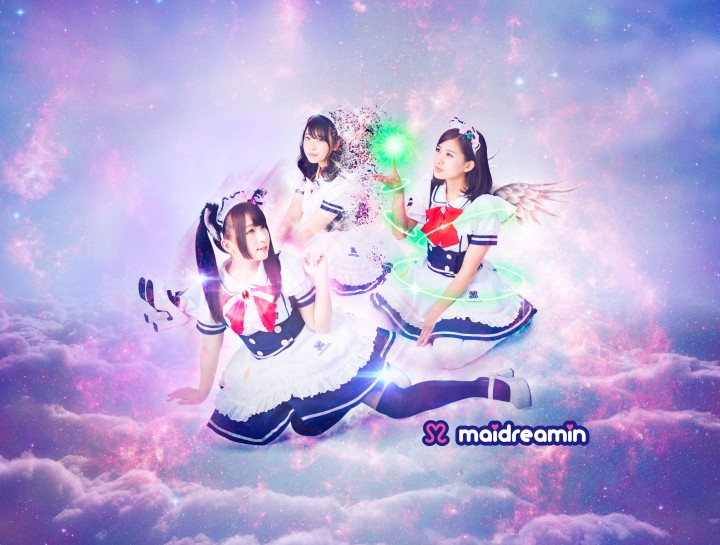 Maid Cafe "maidreamin" has once again accepted an invitation to North America's largest anime convention, Anime Expo 2017 (known familiarly as "AX"), upon the intense request of North American fans. Furthermore, Maidreamin has had the unbelievable good fortune of having its song "ME♡Dreaming" chosen as the new official theme song of Anime Expo, which has previously been handled by groups such as Morning Musume ("3,2,1 BREAKIN' OUT!").
Due to the fact that Maidreamin had been officially invited as the Guest of Honor for Anime Expo 2016 and, as a result of a provision preventing the same Guest of Honor from being invited twice, an invitation for consecutive years was inconceivable. However, thanks to a steady and enthusiastic outpour of love from fans in North America, we have been invited under the kind arrangement of "officially invited performer" rather than as "Guest of Honor" and have even been charged with handling the official theme song. We would like to express our most sincere and deepest gratitude and appreciation to our fans in North America and all around the world.
In order to live up to expectations, we have formed a one-time-only Dream Unit composed of Peace (winner of consecutive Moe Kawaii Queen Contest titles), Ayame (winner of the inaugural Maidreamin Dance Festival), and Yuno (a new, fresh-faced maid with less than 1 month on the job). This unit will take the main stage for an adorable moe moe kyun performance.
In addition, we will be bringing along lifestyle innovator Toshiki Iwahori, who once launched a global Korean pop culture boom from Seoul, South Korea and has himself been nominated as an anime film director and producer at the Berlin Film Festival. We plan to liven up the venue while promoting the Maidreamin brand. There may also be an announcement related to the blockbuster new transcendent idol group being produced together with Mofuku-chan (Maiko Fukushima) in a collaboration between Maidreamin and DEARSTAGE.
While we have been honored with consecutive invitations to Anime Expo, receiving a third consecutive invitation is, realistically speaking, extremely unlikely. Therefore, this year we will be putting even more energy into displaying Japan's maid cafe culture and calling attention to the subcultures of the world's oldest country Japan. It is our hope that the subcultures of Akihabara will continue to expand the trail blazed by Maidreamin and one day become the world's pre-eminent culture!
MAIDREAMIN RETURNS TO AX 2017!
■AX Official Site ⇒
http://www.anime-expo.org/maidreamin-returns-ax-2017/
■AX Official Facebook⇒
https://www.facebook.com/animeexpo/photos/a.184331861460.135287.132304361460/10154651821721461/?type=3&theater
■AX Official Twitter⇒
https://twitter.com/AnimeExpo/status/863862762614607872
Event Information
■About Anime Expo (abbreviated AX)
http://www.anime-expo.org/
Anime Expo is North America's largest event (convention) celebrating Japanese pop culture such as anime, manga, video games, cosplay, fashion, and music. Launched in Los Angeles, California in 1992, the convention was relocated to its current venue at the Los Angeles Convention Center in 2008 and will be entering its 26th year this year. Anime Expo 2017 will be held this year from Saturday, July 1st to Tuesday, July 4th.
Last year's Anime Expo 2016 featured the world premier of Director Makoto Shinkai's "Kimi no na wa (Your Name)", an on-stage collaboration between Phantom of the Kill and Dempagumi.inc, and a jazz performance based on the hugely popular overseas Cowboy Bebop anime, setting a new all-time record for attendance with 304, 799 visitors.
Brand Information
■About Maid Cafe "maidreamin"
https://maidreamin.com/
Maidreamin celebrated its 10th anniversary with the "Square Root of 100 Anniversary" on April 25. It is the world's largest maid cafe chain with 16 entertainment maid cafe and bar locations.
Total annual store traffic has reached 4.5 million guests with Maidreamin pilgrimages becoming normal as approximately 300,000 foreign guests visit stores located mostly in Akihabara, Shibuya, Shinjuku, and Osaka each year.
Maidreamin is also furthering mutual exchange with maids being invited annually to anime and comic conventions such as the upcoming Anime Expo 2017 and last month's Middle East Film & Comic Con 2017 (Dubai Comic Con), as well as J-POP events overseas.
Furthermore, Maidreamin is leading subculture and pop culture in Japan through collaborations with popular idol units, characters, and cosplayers, etc.
In addition, Maidreamin has joined forces with DEARSTAGE inc. in celebration of mutual ten-year anniversaries in Akihabara to begin plans for an "Akihabara Shangri-la (tentative)". As part of this collaboration, Maidreamin is working hard to launch a blockbuster new transcendent idol group under the production of Mofuku-chan.
【Company Information】
■Neodelight International Inc.(
http://www.neodelight.co.jp/
)
President:Yuichiro Suzuki
Headquarters :Fukuei Akihabara Bldg. 5th Floor, 3-14-3, Sotokanda, Chiyoda-ku, Tokyo
【Maidreamin Web Site】
■Official Site HP⇒
http://maidreamin.com/
■Official SNS Account (@maidreamin)
Facebook⇒
https://www.facebook.com/maidcafe.maidreamin/
Twitter⇒
https://twitter.com/maidreamin
Instagram⇒
https://www.instagram.com/maidreamin/
YouTube⇒
https://www.youtube.com/user/maidreamin2
■Kokura Aruaru City店
Twitter⇒
https://twitter.com/aruarucity_md
■Maidreamin Thailand (MBK Thai)
Twitter⇒
https://twitter.com/maidreamin_thai
Facebook⇒
https://www.facebook.com/MaidreaminThailand/
Instagram⇒
https://www.instagram.com/maidreaminthai/
■Please direct inquiries to:
Neodelight International, Inc.
TEL:+81-3-6272-3263
E-mail:
info@maidreamin.com
URL:
https://maidreamin.com/