The Number of Views Dramatically Increases for Another "WS", The Latest Video Work by a Japanese Samurai Artist.
---
A Japanese Contemporary Artist Samurai Masa Slashes in His Way to Save The World from the Evil President with Underpants as His Weapon.
---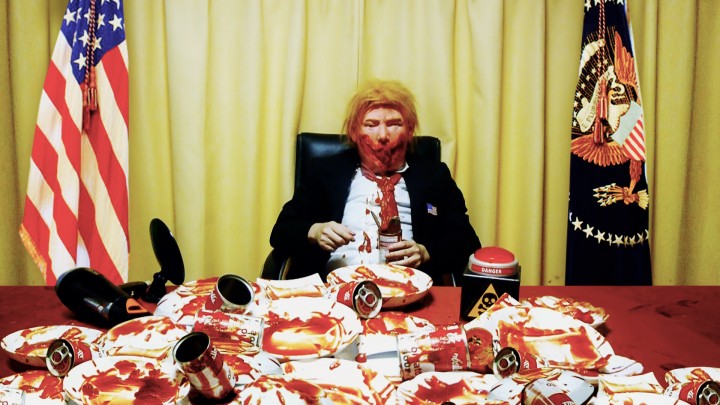 For Immediate Release
May 23, 2017
Tokyo, May 23, 2017: Samurai Masa, a contemporary artist, is pleased to announce a dramatic increase in the number of views of his latest video work, Another "WS"~The evil president AWAKENS interest in girlish tastes~.
This is the video art that features the movie Star Wars. Since its release on the March 27th, the number of views has been rapidly increasing.
The video uploaded on the Samurai Masa's official Facebook page hits 160,000 views in a short period of time. It is winning favors in Asia, particularly in China, and this phenomenon has been reported on several leading news websites of the country.
"Recently, people are feeling fear for instabilities of the world. The story about a Japanese samurai who stands up for punishing an imaginary evil president might be appreciated by the people living in these insecure societies," Samurai Masa guesses the reason of this good reaction.
From ancient times, politics and arts have been always connected.
This current society is no exception and we see that artworks pick up politics as their themes. With an intention to encourage Japanese artists to bring an action against politics, Samurai Masa led the vanguard and tackled with the production of this video work, Another "WS".
In this video art about 'fighting against the evil president', Samurai Masa also incorporates a particular message in a hope of raising a question about 'capitalism'.
Pursuing too much capital and free competitions are making this world ill-balanced. By making this artwork, Samurai Masa aims to create a stir in the current social system where capitalism overly dominates, especially, one of the biggest capitalist countries, the United States of America.
But Why Samurai and Underpants?
The artist is a descendant of Samurai in Japan's Civil Wars Era.
The history of humanity is the history of fighting, repeated over hundreds of years. However, fighting results in nothing positive.
Samurai Masa is trying to send out this message to the world through his artwork using underpants as a symbol of the peaceful world.
No matter where you are from, which religion you believe, the role of underpants is pretty much the same everywhere.....and they will get dirty! Regardless of who you are, when you are standing with just your underpants on, this triggers a giggle. This sense of humor could work for creating a more peaceful world," says Samurai Masa, explaining his passions for an art with underpants.
This video art can be viewed on:
YouTube:
https://www.youtube.com/watch?v=PJQIn2C6QLU
Facebook:
https://www.facebook.com/1959580907603715/posts/1962405307321275
*Please watch out for some shocking images and audio volumes.
*All characters and events in this motion picture are fictitious. Any resemblance to actual persons or events is purely coincidental.
Samurai Masa, who lives in Japan, but also works in Asia and North America, is now planning a project to build a memorial monument for the American victims of the Attack on Pearl Harbor during the World War II, on its very site. Calling Investors and collaborators is under its way.
About Samurai Masa: Samurai Masa is 'a contemporary artist, who fights in the world with underwear as his weapon. He is a descendant of a vassal of the famous Shogun, Toyotomi family. A samurai, surviving in the current world, is going into the world of art not with a sword, but with underwear, for creating a more peaceful world.
#####
For more information, please contact:
Mariko Suzuki
Office Samurai Masa
E-mail:
info@samurai-masa.com
Tel: +81-(0) 90-6495-6833
http://samurai-masa.com/inquiry2/