Game Freak—the people who brought you Pokemon—will be exhibiting at Japan's largest independent games event: A 5th of BitSummit!
---
We'll be running a number of limited-time campaign offers, including 40% off our newest game, Giga Wrecker!
---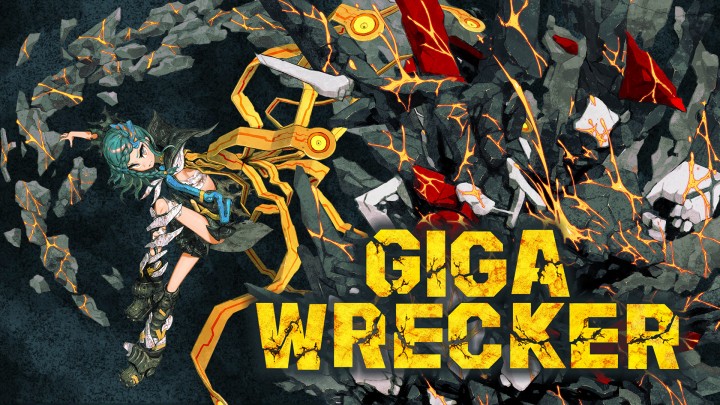 GAME FREAK inc. (hereafter, Game Freak; Main Branch: Setagaya, Tokyo; CEO: Satoshi Tajiri) is proud to participate in "A 5th of BitSummit" (hereafter, BitSummit) on May 20th and the 21st, 2017 at Kyoto International Exhibition Hall Miyako Messe. We'll be presenting our two new titles Giga Wrecker (Steam) and Tembo the Badass Elephant (PS4 / Xbox One / Steam) that were developed under our exciting new system for developing new titles called the Gear Project.
And to celebrate this exhibition at BitSummit, one of the new titles we'll be presenting, Giga Wrecker, will be available for ¥1,199 from May 18th to 25th(PDT)—a 40% discount! The Game Freak booth at BitSummit (#95) will also welcome gamers with a hoard of original goods, gifts, the chance to play the games with the developers, and a host of other opportunities exclusive to the event.
Details of the Game Freak BitSummit Booth Campaign
# First: Giga Wrecker is 40% from May 18th until 25th, 2017
To celebrate BitSummit, Giga Wrecker's regular price of ¥1,980/$19.99 will be marked down 40% to ¥1,199/$10.80. This sale will last from May 18th to 25th(PDT), 2017.
# Second: Meet the Creators, and Enjoy the Game Together!
Come to the Game Freak booth to hang out with the creators and try out the game. Giga Wrecker's director Masayuki Onoue, lead game designer Hiroshi Ito, graphics supervisor Hitomi Ogawa, as well as James Turner, the director for Tembo, will be there waiting to meet you!
# Third: Receive a Giga Wrecker Original Memo Pad and Clear File Folder as a Gift from Us!
The first 100 visitors who install Giga Wrecker in advance and come to the Game Freak booth at the event with a screenshot (that shows the owner of the Steam account) will receive a Giga Wrecker original memo pad and clear file folders.
*This promotion will end when the supply for the event has all been handed out.
# Fourth: Limited-time Offer for Giga Wrecker at ¥1,000 at the Venue! Receive Original Goods as a Gift from Us!
We'll be selling Giga Wrecker Steam CD keys at the booth at the special price of ¥1,000—an offer available only at BitSummit! Everyone who buys the game at the event will also receive an original memo pad on a first-come-first-serve basis.
# Fifth: Giga Wrecker Original T-shirts on Sale!
At the Game Freak booth, we'll be selling exclusive Giga Wrecker T-shirts designed by Editmode, who are known for fashioning THE KING OF GAMES apparel line that includes many cool products using images from the Nintendo classics we all know and love. We'll also have the Pocket Card Jockey soundtrack for sale for ¥2,500 (incl. tax).
# Sixth: A Presentation from the Giga Wrecker Lead Developers on the Main Stage of BitSummit!
The Giga Wrecker developers will be presenting on the BitSummit main stage. They'll be talking about the indie spirit of Game Freak from both the perspective of working on Giga Wrecker and the process of making the Pokémon game series.
Theme: Exploring Game Freak's Inner Indie Spirit in Giga Wrecker
Date: May 20, 2017 from 11:00 to 11:20 a.m.
Location: BitSummit Main Stage  
Speakers: Giga Wrecker project team members from Game Freak
Director Masayuki Onoue, Lead Game Designer Hiroshi Ito, and Graphics Supervisor Hitomi Ogawa
Moderator: Yuko Yamamoto (Representative Director at JAMSWORKS Co. Ltd.)
# Aaaaaand Seventh: Share your Experience from the Event! Join our SNS Campaign!
Report on the Game Freak booth using the hashtag #gigawrecker on Twitter, Facebook, Instagram, and other social platforms. Show the picture you uploaded to the Game Freak booth staff, and we'll present you with a Giga Wrecker original sticker for being a part of the team!
[Upcoming Update]
・An update that includes new features is scheduled for June 2017.
An update including new features and a completely new stage is scheduled for June 2017.
[Giga Wrecker Details]
・Title: Giga Wrecker
・Platform: Steam
・Release Date: Available now
・Price: (Limited Time Offer for this Campaign) ¥1,199 / $10.80
    *This is 40% off the normal price of ¥1,980 / $19.90.
・Developer/Publisher: GAME FREAK inc.
http://www.gamefreak.co.jp
・Website:
http://www.gamefreak.co.jp/gigawrecker/en/
・Twitter (@giga_wrecker):
https://twitter.com/giga_wrecker
[BitSummit Details]
・Event: A 5th of BitSummit
・Dates: 10:00 to 17:00 on May 20, 2017 (Sat) and May 21, 2017 (Sun)
・Location: Kyoto International Exhibition Hall Miyako Messe
9-1, Okazaki Seishoji-cho, Sakyo-ku, Kyoto-shi, 606-8343
・Booth: Booth 95
・Featured Titles: Giga Wrecker (Available On: Steam),
Tembo the Badass Elephant (Available On: Steam / Xbox One / PlayStation4)
・BitSummit Website:
http://bitsummit.org/2017/projects/
――――――――――――――――――――――――――――――――――――――――
[For the Press]
・Please come to the booth to receive specially prepared press kits, including Game Freak original mini booklets that will only be available to the press at the BitSummit venue (not for sale).
・If you want an interview with the development staff at the venue, reach out to the contacts listed at the bottom.
* It'll be possible to arrange interviews on the day as well. Please speak to the staff.
――――――――――――――――――――――――――――――――――――――――
[Contact Information for Questions about this Release and Interviews at BitSummit]
Ando & Yamamoto of JAMSWORKS Co. Ltd.
gf.press @ jamsworks.com