YOTSUHAZIKAN: Lucky 'Four-Leaf Clover' Designer Watch To be Available in the USA
KOIKE TERUMASA DESIGN AND AEROSPACE
---
Do You Believe in Serendipity? Look For a 'Four-Leaf Clover', an Eternal Lucky Charm, which Appears Only Once Every Hour on Your Clock Face
---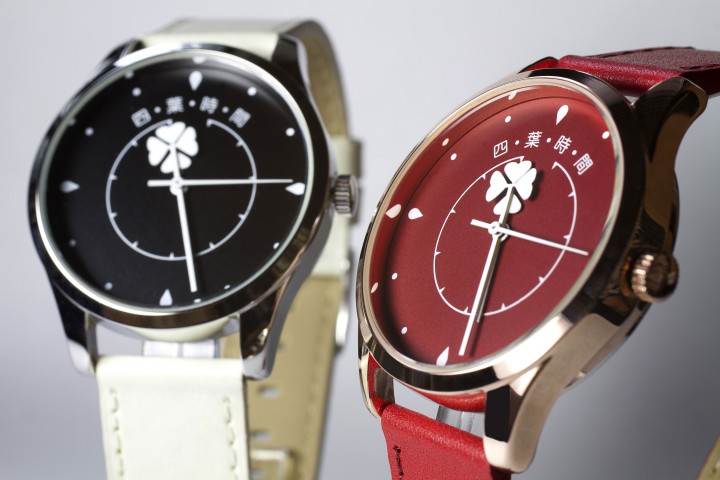 For Immediate Release
May 2, 2017
Tokyo, May 2, 2017: KOIKE TERUMASA DESIGN AND AEROSPACE is pleased to announce the launch of YOTSUHAZIKAN, an original designer watch from Japan, in the USA from April 10, 2017.
YOTSUHAZIKAN means 'the moment of four leaves'.
When the two clock hands meet, a four-leaf clover appears on the clock face.
This occurs only once every hour and it lasts for a very short time.
So, if you see it, you will feel lucky.
"I enjoyed upgrading a wristwatch from just an item that tells the time to something with a little extra. I've never seen this idea or a lucky item on the clock face by using the movement of two clock hands, anywhere else in the world", says the designer, Terumasa Koike.
The keyword is 'synchronization':
Each clock hand has two-leaf clover at the point. Only when the two hands meet, they form a four-leaf clover. When you glance at your wristwatch and find a four-leaf clover on the face by chance, this could be serendipitous! And just imagine that someone you don't know might also be savoring the same feeling at the very same time somewhere else in the world.
When two clock hands synchronize, you synchronize with somebody and share this little happiness.
YOTSUHAZIKAN creates these extra special moments.
"I've been wanting to create a happy synchronized device like this. Time goes by every day. But, if you add a little something to it, your life can be enhanced and be a bit more special. That is the mark of YOTSUHAZIKAN" Koike added.
Specification:
Price: 150 USD
Case diameter: 37mm
Case thickness: 9mm
Belt width: 18mm
Movement made in Japan
Mineral glass windshield
Real leather belt
Water-resistant
1-year warranty
Color variations: White, Rose
Purchase can be made on Amazon.com:
https://goo.gl/n2vyMq
It is said that there is only 1 four-leaf clover for 10,000 common clovers. That means the chance of finding one is around 0.01%.
Bring that good fortune to your wrist or give it to someone special as a gift.
A tiny moment of happiness, it may be, but this little extra feeling can make your daily life a bit more joyful!
For more information, please visit the following website:
http://yotsuhazikan.com/index_e.html
https://goo.gl/n2vyMq
https://goo.gl/z38GpC
About KOIKE TERUMASA DESIGN AND AEROSPACE: After having worked at an automobile company as an interior/exterior designer, Terumasa Koike set up his own design office. Under his belt, Koike has mainly designed "moving objects", such as train carriages and future aircraft.
YOTSUHAZIKAN is the first mass production item from KOIKE TERUMASA DESIGN AND AEROSPACE.
#####
For more information, please contact:
Terumasa Koike
KOIKE TERUMASA DESIGN AND AEROSPACE
E-mail:
info@yotsuhazikan.com