Evolutionary Fishing Game App 'BASS FISHING 3D II', Now Released for iOS and GooglePlay
---
With 14 Million Worldwide Downloads, BASS FISHING 3D Evolved Ever!
---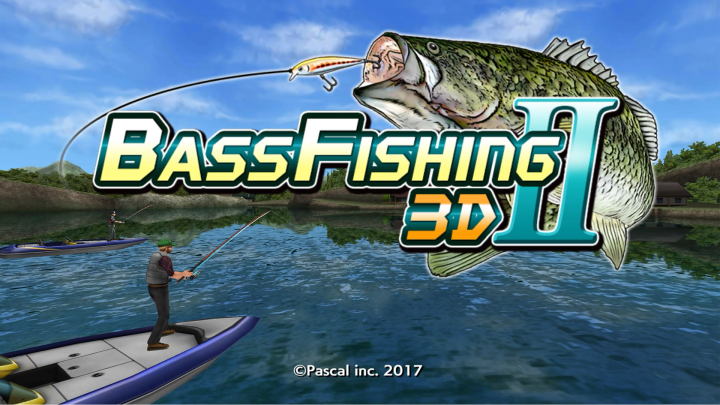 For Immediate Release
March 22, 2017
Osaka, March 22, 2017: PASCAL INC. is pleased to announce the release of the game app 'BASS FISHING 3D II' on March 21, 2017.
'BASS FISHING 3D II' is an updated version of 'BASS FISHING 3D', a fishing game app which has recorded a total of 14 million worldwide downloads. Like the previous version, its basic feature is that one sails his or her bass boat freely, finding the casting point by using a sonar. However, this upgraded version excels in the quality of its 3D graphics. Further, with its new underwater camera feature, one can watch the fish as if he or she were in the water, so that he or she could choose the right lures to capture the targeted fish.
Also new is a system that enables one to master the lure action appropriate for his or her fishing skills. Fighting scenes come with more actions, and the battle against NPC (non player character) is also newly introduced.
Main Features:
1) Thanks to the evolved 3D graphics, the field looks clearer so that one can enjoy feelings of real fishings.
2) Introduction of the underwater camera enables one to watch underwater by him or herself, never going wrong with the selection of lures to capture the targeted fish.
3) Totally renewed fighting-system:
One can handle the rod according to the movement of the bass. Reel in fish at the best time!
4) More varieties in game modes:
Tournaments: Compete against worldwide players and compare fishing results.
Missions: Challenge the missions in the 120 levels.
Free Fishing: Enjoy fishing in one's favorite waters at his or her own pace.
For more information, please visit the following website:
https://www.youtube.com/watch?v=7ciDn8gVJS0
http://www.pascal.jp/bass2/pc.html
For free downloading:
【for iOS】
https://itunes.apple.com/us/app/id1204721850?mt=8
【for GooglePlay】
https://play.google.com/store/apps/details?id=jp.pascal.bassfishing3DII
Basic information:
Title: BASS FISHING 3D II
Category: Sports
Release Date: March 21, 2017
Price: Basic play is for free (with some In-App purchasing)
Memory: Requires more than 1GB
Compatibility: iOS 8 or later, android 4.1 or later
About PASCAL INC.: Established in 1998 in Osaka, the second largest city in Japan, PASCAL INC. specializes in planning, development and management of game applications for smartphone as well as software development on contract basis.
#####
For more information, please contact:
Tomoaki Kiuchi
PASCAL INC.
E-mail:
press@pascal.jp
http://www.pascal.jp/bass2/pc.html