From the Creators of the OKKO Sweet Romance Game Series, Comes their Newest Game Title: Decoding Desire Pre-registration Ongoing!
---
Register now and get a number of in-game items to enjoy Decoding Desire with ease!
---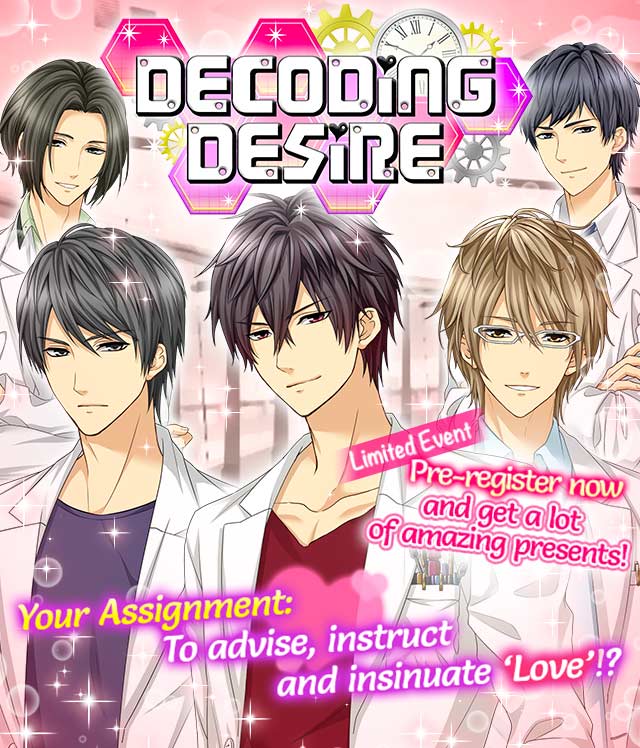 TOKYO, Japan―Providing all-original Japan-made romance simulation game applications to over 120 countries globally under their popular game title series OKKO Sweet Romance, OKKO Incorporated (Headquarters: Suginami-ku, Tokyo, Japan, CEO: Takashi Ike) announces the start of their pre-registration campaign for their newest English game title Decoding Desire today, February 23rd, 2017 from 17:00 (UTC+9).
Joining the pre-registration campaign will enable the players of Decoding Desire to receive special in-game items as a reward upon its official release, for a more favorable game experience.
◆Pre-registration Campaign Overview:
Register a valid e-mail address on the official Decoding Desire website located here (
http://okko.jp/apps/lovelabo_en/
) to receive the following in-game items as a reward:
・A limited edition pre-registration campaign avatar background item, "Research Lab".
・"Affection Points Up +5" item for main character, Yuushin Kuze's story route.
Players can also receive these two additional in-game items should they complete the tutorial stage of Decoding Desire:
・All Scenario Ticket x2
・Gacha Ticket x2
◆Game Synopsis
Joining a team of highly-skilled engineers on a highly-classified robotics project, your assignment―as a brilliant, top-notch clinical psychologist―to advise, instruct and insinuate these eye-catching, outstanding male researchers on... how to love!?
 "It's your job anyway.
    Who cares if it's just a kiss?"
How far can reason overcome instinct, when plunged right into a mare's-nest!?
Probe deeper into the various issues of love, romance, maturity and more, then ask yourself... if 'Love' truly exists.
◆Game Overview
Game Title: Decoding Desire
Available On: Google Play and App Store
Release Date: Spring 2017
Minimum Operating System Requirements: Android 4.0 or higher or iOS 9.0 or higher
Pricing: Free-to-Download (with options for in-app purchases)
Copyright: ©OKKO
◆About OKKO Incorporated
Japanese Corporate Name: OKKO株式会社 (OKKO K.K.)
English Corporate Name: OKKO Incorporated
Corporate Website:
http://okko.jp/
Address: 3F Fujisawa Bldg., Ogikubo 4-30-16, Suginami-ku, Tokyo, Japan
CEO: Takashi Ike
Date of Incorporation: June 18th, 2008
Primary Business Segments:
Romance Simulation Game App Development and Operations
Cross Marketing Platform "Cross Partners"
◆Contact
OKKO Incorporated
Mrs. Krizelle Cabansag or Mr. Norihiko Matsumoto
Tel: +81 (03) 5347-9195
E-mail:
press-w@okko.jp
###