Honey's Anime Launches Light Novel Platform "Honeyfeed"
---
Anime website Honey's Anime launches Honeyfeed, an English-language online light novel platform.
---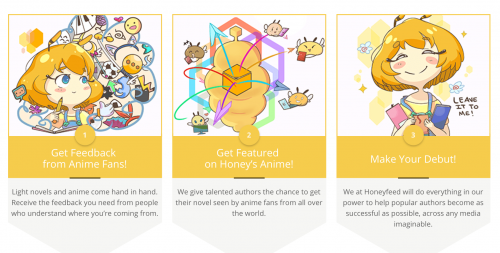 FOR IMMEDIATE RELEASE
Tokyo - Jan. 20, 2017 - Popular anime website Honey's Anime has created Honeyfeed, a new online light novel platform for readers who thirst for anime-like creations and writers of original fiction who want to get their work seen globally. Launching today after three months in closed beta, Honeyfeed is an innovative English-language platform specifically for light novels.
On Honeyfeed, authors can post their novels and get feedback on their work from anime fans - people who understand otaku culture and therefore the context behind authors' works. Honeyfeed will also feature light novels by popular authors on Honey's Anime, allowing their work to be seen by millions of anime fans from all over the world. In the future, Honeyfeed aims to support successful writers by offering them publishing deals as well as access to multimedia projects, such as manga and anime adaptations.
During its closed beta Honeyfeed invited 573 testers, from whom they gathered feedback, and was praised for its clean design and easy-to-use interface. The light novel platform has developed through listening to the opinions of passionate light novel fans, and will continue developing in order to maximise user satisfaction. Aspiring authors can start writing now at
https://www.honeyfeed.fm/
.
About Honey's Anime
Launched in 2014, Honey's Anime is a rapidly-growing anime website based in Tokyo, Japan. With in-house translators and over sixty writers from around the globe, Honey's Anime specialises in providing recommendations, ranking lists, and the latest news to anime fans. For more information, visit
http://blog.honeyfeed.fm/
.
About qdopp, Inc.
Founded in 2014, qdopp, Inc. has an internationally-minded team and a love for media content. Following the success of anime website Honey's Anime, qdopp, Inc. launched light novel creation platform Honeyfeed. qdopp, Inc. also acts as an advertising agency to connect Japanese and international clients. Through overseas promotion, qdopp, Inc. helps those in the Japanese music and entertainment industries increase their presence overseas. Find out more at
http://qdopp.co.jp/
.
Contact
Ellyn Barnes
qdopp, Inc., Honeys Anime & Honeyfeed
Email:
ellyn.barnes@qdopp.com
Address: 8F IS Alps Bldg., 1-16, Kanda Suda-cho, Chiyoda-ku, Tokyo 101-0041, Japan
###