GAME FREAK Title "GIGA WRECKER" December Update Announcement
---
GIGA WRECKER is updated towards the full version!
---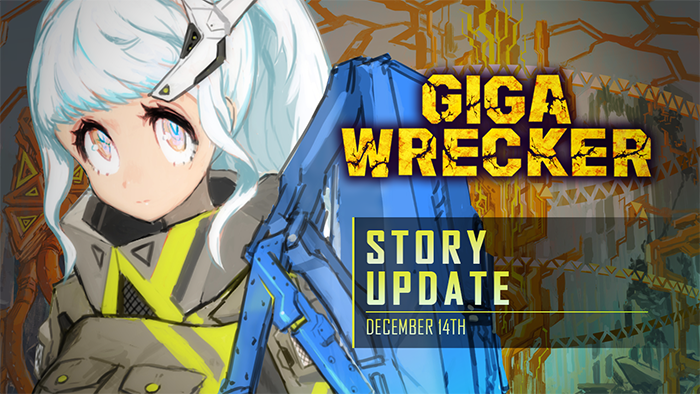 December's major update is now available for "GIGA WRECKER", currently released for Early Access on the online gaming platform Steam.
From this update the story and stage flow will be changed from the Early Access version to the full version, and a new character "Amane Azuma" will join the adventure. More features are upgraded than ever before, including redesigning of stages and puzzles, addition of the World Map etc. All players will be able to enjoy the game, including players who have already downloaded the previous versions.
Please confirm attached PDF file for further details.
Also in-game screenshots used in the PDF are uploaded in the URL below.
http://firestorage.com/download/8bb0e003f01764e779a0ceaa222df9bb0ba6322f
(Download available until December 20, 2016)
Thank you very much for your time and consideration.
We solicit for your custom and support for GAME FREAK and GIGA WRECKER.
GAME FREAK inc.
http://www.gamefreak.co.jp/
-----
■Product Description
Title: GIGA WRECKER
Steam Website:
http://store.steampowered.com/app/454410/
Genre: 2D physics-puzzle action
Platform: PC
Price: $14.99 ※This price is for the Early Access version
Developer, Publisher: GAME FREAK
-----
【Contact Information for product, promotion, review】
GIGA WRECKER Support
Mail:
support_giga_wrecker@gamefreak.co.jp