Introducing Band Online: a music studio web service that allows you to collaborate through your browser
---
Using HTML5-based tech, Japan's first web browser-based music studio has been realized ~Aiming from Japan for global music collaboration creation~
---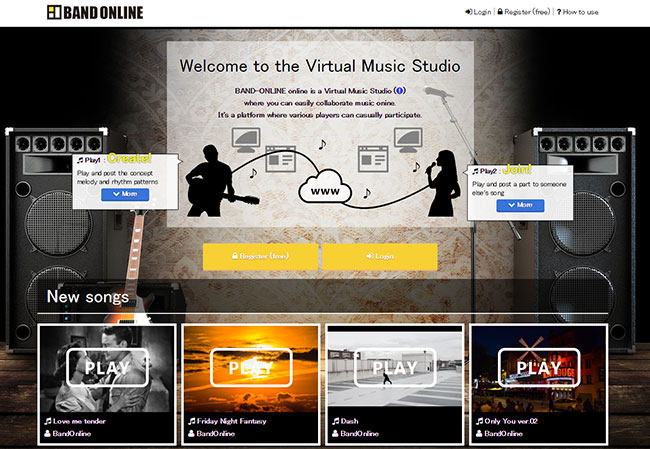 In October, 2016, flagment LLC (Main office: Shibuya-ku, Tokyo, CEO: Nobuhiro Ito) released "Band Online," a music studio web service that allows user to collaborate through their browsers.
URL:
https://www.band-online.jp/
Through Band Online, the company aims to increase the musician population and instrument population and revitalize the music industry by realizing music creation, not only within Japan, but simultaneously with musicians overseas.
[Background/Purpose]
As sharing economies, crowd funding, and financial technology symbolize, the age where only giant companies could conduct economic activities that would have an impact on society are over, and groups of more personal activities are becoming a moving force to change the world.
flagment LLC's mission is to offer solutions for fields that revitalize such personal activities, and its vision is to, as a result, revitalize society.
We realize that as the music industry faces a revolution in every area, recent noteworthy expansions in modern services for users are in video and music viewing/listening services.
However, we believe that currently, there is a lack of solutions in environments for music creation.
As a solution, we have concluded that a creation environment that is "cheap," "costs little to learn," "has a network function," and "is based on user participation" is necessary, and have developed Band Online as an answer to this issue.
[Functions/Features]
Previously, playing with others and finding companions who share the same musicianship required a great deal of labor. With this service, flagment LLC offers an environment where anyone can easily hold music sessions with anyone around the world through the internet.
Additionally, setting up a DTM (Desktop Music) environment has issues with cost and learning how to use one, and musicians are required to learn operating knowledge. However, by using Band Online, with headphones, a microphone, an audio interface and a PC/Mac, anyone can easily obtain a simple DTM environment, and musicians can focus on their music. The service is not any kind of special standalone software, is accessible through a browser and, so long as the browser of the introductory device is compatible, can be used on any PC or Mac.
A feature of this service is that multiple people can participate in a single song, with multiple performance patterns potentially existing for a single part. A function to create a mix by combining those parts and adjusting the PAN, volume, etc. is included.
Through this feature, each performance part can be heard more clearly and, depending on the arrangement or combination of parts, the same song can become a new song with a completely different audio texture. This is offered as a modern approach that considers mixing as a performance in and of itself.
Preexisting performance mp3 data can also be uploaded and used, so users who already have their own DTM environment and want to collaborate their own original music with others can do so immediately.
[Expansion range]
Music is a massive recreation/industry with players around the world and--outside of lyrics--because it can cross the language barrier, Band Online will be introduced globally, initially centering on Japan and English-speaking areas by allowing the user interface to switch between Japanese and English right from the start, and by integrating Paypal as a payment system outside of using credit cards.
[About flagment LLC]
Company name: flagment LLC
Address: 7th floor Sakagami bldg., 3-27-15 Shibuya, Shibuya Ku, Tokyo,Japan
Representative: Nobuhiro Ito
Founded: June 17th, 2015
Homepage:
http://flagment.co.jp/
[For questions about Band Online]
flagment LLC, rep: Ito
Tel: +81(0)3-4405-6315
Mail: info@ flagment.co.jp