Immerex Made impressive Debut at Tokyo Game Show 2016
Ariadne's Thread Japan Co.,Ltd
---
VR Head-mounted display Immerex VRG-9020 and VR Camera VRS-7000 made a public appearance at this year's Tokyo Game Show and received unanimous praise.
---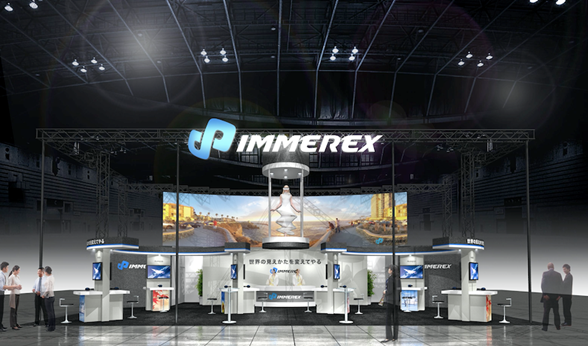 For Immediate Release
15 September 2016
https://www.value-press.com/uploads/r_overseas/48660/111.PNG
Tokyo, 15 September 2016: Ariadne's Thread Japan Co.,Ltd is pleased to announce that their major product Immerex, the VR head-mounted display was exhibited at Tokyo Game Show(TGS) 2016 which ran from September 15th to 18th at Makuhari Messe in Chiba City, just outside Tokyo.
https://www.value-press.com/uploads/r_overseas/48660/222.PNG
In this year's TGS, newly established VR area was one of the main attractions for the visitors. Alongside the VR devices produced by game developer giants, such as SONY, Microsoft or Samsung, the next generation head-mounted display (HMD), Immerex VRG-9020 was presented in front of the enthusiastic game lovers for the third time after this year's successful showcase at E3(Electronic Entertainment Expo, Los Angeles) and ChinaJoy(Shanghai),
https://www.value-press.com/uploads/r_overseas/48660/333.PNG
One of the most attractive features of Immerex VRG-9020 is an "all-in-one" mobile device. The perfect integration of HMD and MediaBox makes this VR device ultra portable and you can enjoy VR anytime, anywhere without physical limits.
The style-conscious VRG-9020 is extremely thin with a width of 34mm and a weight of approximately 200g- making it feel "zero" weight and comfortable to wear. VRG-9020 has also realized the resolution as high as 1080p.
https://www.value-press.com/uploads/r_overseas/48660/444.PNG
Also presented at this Tokyo Game Show was the VR camera VRS-7000, for the very first time in Japan. VRS-7000 is equipped with three cameras and can take 4K resolution super high vision panoramic videos.
The functions like WDR(wide dynamic range) or DSS(dynamic slow shutter) enable users to take professional quality videos. Also with no connecting wires or cables, the VRS-7000's compact design and built-in battery allow users to shoot VR videos more easily and comfortably.
Through its 4G signal, videos are automatically transmitted in real-time then output the seamless panoramic images. Automatic post-processing technology makes the shooting even simpler and user-friendly.
https://www.value-press.com/uploads/r_overseas/48660/555.PNG
In order to correspond to the Japanese market strategy, and to appreciate the country's superiority in resources, Immerex has set up its own specialized shooting and technical teams and creates high-quality contents from various fields such as human studies, science, history, geography, technology.
At this launch, visitors were offered rare occasions to try and experience a part of Immerex's extensive VR contents including cinemas and games.
Immerex strives to improve VR system further and create more polyphyletic contents for a brand new and independent parallel virtual world that can fulfill both consumer's and developer's needs. Immerex hopes to provide consumers with a deeper sense of satisfaction and happiness beyond sensory experience.
Immerex is not just a VR HMD but to appreciate the ultimate joy of virtual reality.
https://www.value-press.com/uploads/r_overseas/48660/666.PNG
Please refer to the following website for more details about these products:
http://www.immerex.com/
About Ariadne's Thread Japan Co.,Ltd: Founded in 2016 in Ikebukuro, Tokyo, Ariadne's Thread Japan Co.,Ltd is a newly emerged VR development company which produces VR(virtual reality) devices and contents. Their major product, Immerex claims its originality and character. Not simply making VR games to satisfy game lovers, Ariadne's Thread Japan Co.,Ltd aims to develop contents which are genuinely needed by users according to their demands.
For more information, please contact:
Tuyoshi Nagano (Ariadne's Thread Japan Co.,Ltd)
E-mail:Info@immerex.com
Ikebukuro City Hights 306
3-18-34 Minami-Ikebukuro, Toshima-Ku,
Tokyo 171-0022, Japan
Tel: +81-(0) 344057939
http://ariadnethreadjapan.wixsite.com/mysite