The "SMILE GAME BUILDER" for Windows, software, supporting both English and Japanese and allowing the creation of RPGs without the need for programming, will be released on Thursday, September 8!
---
Download contents will also be on sale at that same time so as to help users extend their range of expression!
---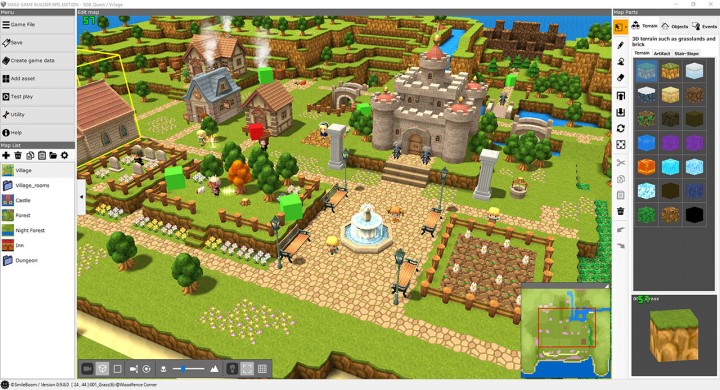 SmileBoom Co. Ltd. (Head Office in Sapporo City, Hokkaido, Japan President and CEO: Takaki Kobayashi) will start sales of the "SMILE GAME BUILDER" for Windows, software for creating role playing games, through the "STEAM," a computer game sales platform, on Thursday, September 8, 2016. The retail price in Japan is 9,800 yen (tax included) and 79.99 US dollars in other countries.
At the same time, 4 types of additional material packs including 3D models and BGM for the SMILE GAME BUILDER prepared by leading game creators will be released as download contents so as to help users extend their range of game creation.
The SMILE GAME BUILDER is software for Windows which enables creation of role playing games (RPG) using 3D mapping without the use of programming and script languages. In the past, mastering programming skills were necessary for game creation. Then the spread of game development environments called "game engines" enabled creators to create various games without the need of basic programming. However, such game engines were for general purposes, so creators still needed to set game rules and prepare various types of graphics, sounds and resources, which was an obstacle for game creation beginners to participate in game creation as programming was an obstacle.
The optimized SMILE GAME BUILDER allows custom-designed for RPG game creation by eliminating general purpose properties, thereby enabling creators to concentrate on game story making. Also, the SMILE GAME BUILDER allows creators to make three dimensional relief maps without preparing 3D modeling tools just like playing a game. More than 1,000 types of materials, including 3D models, 2D graphics, BGM, and sound effects are included in the package, so a user will be able to start game creation as a game creator on the first day of purchase.
Furthermore, created games can be saved as applications for Windows, so creators are free to distribute a game as free software or for sale as a product.
Download contents for SMILE GAME BUILDER users to extend the range of expression will be on sale on the same day!
Download contents (DLC) including 3D models and BGM are designed to further advance users creativities and will be released along with the SMILE GAME BUILDER!
Each DLC was created by experienced professional game creators with proven sales performance in the commercial game field. Various brand name materials created by these professional creators will continue to be released in the future.
・3D Modern Design Set (tentative title) (Produced by G-STYLE Co., Ltd.)
・Corpse Part-Kisaragi Gakuen Set (tentative title) (Produced by Team GrisGris)
・JOEDOWN Sound Library (tentative title) (Produced by JOEDOWN Co., Ltd.)
・Fantasy Orchestra Set (tentative title) (Produced by Bitter Sweet Entertainment Inc.)
Feature (1) Create 3D maps as easily as drawing a picture!
It is extremely simple and easy to create undulating 3-dimensional maps for your games without knowing anything about 3D modeling. You first select the terrain type, such as grass, sand or snow, and draw the rough outlines of the map in the map editor. You can lay the foundations of the 3D map by just specifying the height of different areas within the map. Finally, you can complete the stage for the game that you want to make by adding trees and buildings, such as houses or castles.
Feature (2) Event templates make game development a breeze
In RPGs, there are a lot of common scenes, such as "Villager who gives you an item when you speak to him" or "Start battle after a conversation scene!", that cannot be created quickly by novice developers. However, SMILE GAME BUILDER provides more than 138 different types of event templates that enable you to create these sorts of events instantaneously. Anyone can create these sorts of scenes in a flash by just putting one of these event templates into the map and configuring some simple settings.
An event template consists of a combination of 51 types of event panels. Users can create even more detailed representation by creatively building up these event panels. Trying out different combinations of event panels allows you to naturally acquire the logical thinking and creativity that are considered to be important for learning programming.
Feature (3) Numerous particle effects that realistically replicate natural phenomena, such as rain, fog and flames!
Visually appealing stage effects, such as changes in the weather, flames and light, are essential to an exciting story. SMILE GAME BUILDER provides 22 types of particle effects*, such as rain, fog, flames and smoke. These effects dramatically liven up the various scenes visualized by users.
* Particle effects are a method of replicating natural phenomena, such as fog, flames and snow, that are difficult to reproduce with traditional 2D animation or with polygons.
Feature (4) Changeable viewpoints! Multi-view camera system!
As well as allowing you to design maps from any angle you like, the map editor also lets you build maps and events while checking the deployment of characters and the insertion of events. During the game, players can switch between birds-eye view and first-person view.
Feature (5) You can immediately start building a game by using the extensive graphics and sound materials that are also provided.
Game production requires various materials, such as graphics, background music (BGM) and sound effects. SMILE GAME BUILDER comes with over 1,000 types of these sorts of materials, allowing you to start enjoying your game development on the same day that you buy the software. Naturally, you can also use any 3D models, 2D graphics or sound data that you have created by yourself.
・Character materials
2D walking characters 30 types
3D walking characters 56 types
Character faces (Human) 35 types
Character faces (Monsters) 46 types
Monsters 46 types/effect materials
Battle effect 60 types
・3D map materials
Terrain parts 64 types
Map objects (3D) 169 types
・2D materials
Window images 12 types
Fight backgrounds 13 types (49 types including variations)
Icons 4 sets (310 types)
Title images 2 types
・Sound materials
BGM 18 songs
ME 8 songs
BGS 26 types
SE 117 types
Product name
・SMILE GAME BUILDER
Release date
・September 8, 2016
Download price
・Japan: 9,800 yen (including tax) / overseas: US$ 79.99
Sales channel
・STEAM® (download only, to be rolled out to other sales channels)
System environment
・OS: Microsoft® Windows7/8/10 Japanese edition (32/64bit versions)
* Performance is not guaranteed under a virtual or emulated environment.
Required system environment
・CPU: Intel Core 2 Duo processor or AMD Athlon™ 64
・Memory: 2GB or higher
・Graphics: Intel HD graphics 4400 or more,
Radeon HD graphics 5430 or more, OpenGL 3.0 or more
Recommended system environment
・CPU: Intel Core or AMD Athlon™ II (K10)
・Memory: 4GB or higher
・Graphics: NVIDIA® GeForce® 400 series, AMD Radeon™ HD 5000 series
・Display: 1366 x 768
・Hard disk space: 700MB or more
Official site
・
http://smilegamebuilder.com
Official Twitter account
・@Smileboom_SGB
About SmileBoom Co. Ltd.
http://smileboom.com/company_summary.php
SMILE GAME BUILDER is a registered trademark of SmileBoom Co. Ltd. © 2016 SmileBoom Co. Ltd. All Rights Reserved.
Inquiries
SmileBoom Co. Ltd.
Elm Building, 4-7-4 Nishi, 9 Jyo Kita, Kita-ku, Sapporo-shi, Hokkaido,Japan 060-0809
Mail:
press@smileboom.com
Tel: +81 11 87 68 333 Fax: +81 11 87 68 334
About STEAM®
Steam is one of the world's largest online gaming platform with more than 100 million registered members. It is used by PC game fans from around, and sells a large number of games from the latest major titles to challenging independent games.
About DLC production cooperators
G-STYLE Co., Ltd. (
http://www.gstyle.co.jp/
)
G-Style is a developer in Hokkaido who creates CGs of major titles for home gaming consoles to game center machines, and also plans, develops and sells own-branded smartphone apps. In a highly communicative environment, the company energetically creates play, while continuing to challenge many new areas.
JOEDOWN Co., Ltd. (
http://www.joedown.co.jp/
)
JOEDOWN is a music production company based in Sapporo, creating sounds for a wide range of areas, from games, apps, commercials, stage art, to TV programs. The company owns a full-scale recording studio JOEDOWN Studio where they do sound recording, narration recording, video voice recording, to MA operations.
Bitter Sweet Entertainment Inc. (
http://www.bitter-sweet.jp/
)
The company creates music including sound and sound effects for games for various platforms, video contents for movies, commercials and anime, background music and promotional theme songs for stage performances and events and sound logos. They also work as management companies for many artists including KishiBashi and Charlotte Kate Fox and their labels.
Team GrisGris (
http://www.gris2.com/
)
Team GrisGris is a game developer group who created the original idea and plot of the popular horror game series Corpse Party. The group has also created anime programs by the same title, designed characters and did 3D modeling for other companies' major titles, and supplied the original plot and songs for Corpse Party Book of Shadows, a movie released this summer.