SOMEATT, an SNS for Travelers in Japan, Gets Redesigning and Additional Features
Synergy-Networks Co. Ltd.
---
Change the way you travel in Japan
---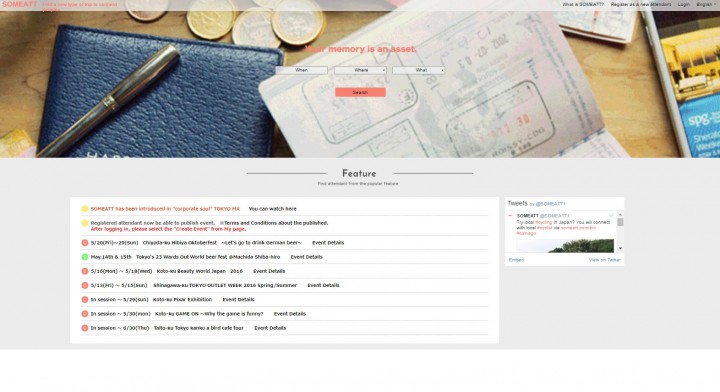 May 24, 2016, Tokyo – SOMEATT, a social networking service (SNS) developed by Synergy Networks to help tourists in Japan enjoy local spots and interact with the locals, recently revamped its web design and added new features for users to post their own events. The online service goes beyond usual famous spots offered in packaged tours and guidebooks, allowing foreign travelers to visit local sites together with the locals.
Local Japanese, who want to meet and assist tourists, can register the site as "attendants," so they can select specific spots, activities, or topics familiar to them. Foreign travelers can then search for attendants by choosing spots they want to visit, together with activities and topics they are interested in during their holiday.
SOMEATT offers:
1. A lot of flexibilities for attendants to create and post their own events,
2. Supports for all types of contents related to travels, as it is not confined to specific purposes such as accommodations,
3. Real-time supports through an added GPS function showing where available attendants are "now!", and
4. Freedom to plan their own trips based on their individual budgets and schedules, unlike packaged tours, plus,
5. Free of charges for both travelers and attendants to use this site.
Asked how SOMEATT came around, Ken Kawamura, the head of Synergy Networks, says "I love traveling, and what I remembered the most when I came back to Japan were not the famous buildings or restaurants, but the stories that naturally came out of meeting people along the journey. I thought that what we need is an online service that can bring these enjoyable moments of a trip."
Talking about the situation in Japan, he adds "The number of foreigners has risen steadily and it will definitely go on rising until the 2020 Tokyo Olympics. Many foreigners say that they want to know the Japanese local people but there are still few chances for doing so. I hope SOMEATT will help them to create good memories of Japan."
"Watch out for further additions of places and activities. We hope to introduce attendant reviews and other features soon, and grow SOMEATT into a unique SNS platform."
Visit SOMEATT at
http://someatt.com/en/
youtube 
https://www.youtube.com/watch?v=TOhkfRgfb6I
###
For more information, contact:
Ken Kawamura
Synergy-Networks Co. Ltd.
kawamura@synergy-networks.co.jp