Furball Ninja: the new action game app released by Moaisoft Games
---
Slash through the descending armies of furball ninjas in this exhilarating swordplay game!
---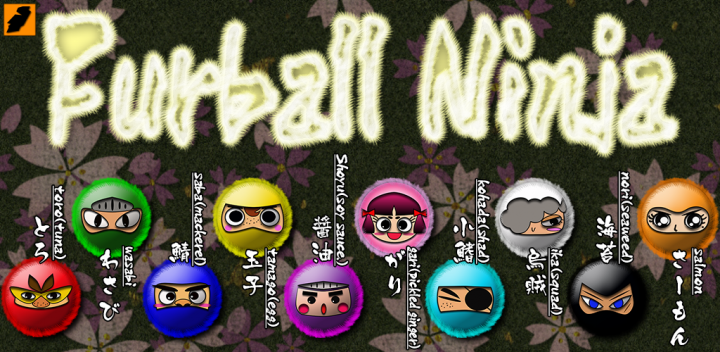 Tokyo - May 9, 2016 – Furball Ninja, a new swordplay game app for iOS (iPhone, iPad and iPod touch) and Android smartphones, was launched today by Moaisoft Games.
Huge armies of fuzzy and furry furball ninjas in different colors come tumbling down. Slash through these ninjas to defeat them! Defeating them is easy: swipe through ninjas of the same color and release to cut them down. But be careful of the bombs that are dropped! They will explode in 30 seconds and if you touch them. Cutting down furball ninjas will earn you coins. Earn as many of these coins and get rich!
Features:
- Cute and fuzzy furball ninjas
- Gameplay live recordings are possible with Everyplay.
- You can share your recorded plays and screenshots on various social networking sites.
- It supports Google Play Games Services leaderboards and scores.
- It supports Apple Game Center leaderboards and scores.
Experience the ultimate exhilaration in a swordplay by simply swiping through ninjas of the same color and releasing. There are no difficult puzzle-like scenarios to solve here-just reflexively cut through the same colors. Three levels of difficulty are available according to a player's skill level.
Plus, you can easily make your own live recordings of games as popular game videos released by recent YouTubers! Just turn on the record video function to automatically start recording your plays. Audio and a player's videos will be recorded simultaneously so that you can post them together with your play videos. The latest trends in sharing game information online on Twitter, LINE, and other SNS sites are also integrated into the app.
This game is for everyone, from casual players to heavy hardcore gamers, and it's completely free with no hidden in-app charges.
In the future, Moaisoft is considering developing character goods and a virtual reality game based on the game app.
Learn how to play the game from its website and promotion video below:
http://www.moaigame.com/games/FurballNinja.html
https://www.youtube.com/watch?v=kLeIhucO7n0
For more information on Moaisoft
http://www.moaisoft.com/
Contact Information:
Moaisoft Games
moaisoft@gmail.com
+81-45-871-8065
###