Walk around Japan with an audio guide in your pocket. Location-based service app Wanderpass released
---
Wanderpass guides you as if you were in a museum. Finding hidden gems or best-kept secrets in town is easier than ever with this new multilingual application.
---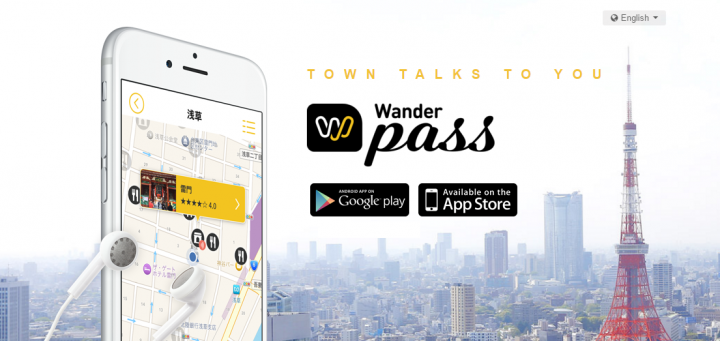 Tokyo, 30 March 2016: IPPON Inc. is pleased to announce the release of Wanderpass (
https://wanderpass.jp/)
, the new application for smartphones on 24 March 2016.
Many people have used an audio guide in a museum at least once. It shows you the best route to take and gives you some decent explanations about the items on display.
Imagine if this could happen in a city? That is the concept of Wanderpass.
Wanderpass guides you through the city by voice as if you were in a museum but the most exciting difference is that you decide the route and the pace at which you wish to walk.
Simply open up the app, put your earphones on and start walking.
Wanderpass detects your location by Global Positioning System (GPS) and the voice guide provides tips and information about places along the way.
You can even get information about secret spots or hidden gems that you will not find in any guidebook.
Want to find the Tokyo's best Sakura (cherry blossom) spot? Wanderpass will tell you where and how to enjoy it!
Wanderpass can be downloaded for Android and Apple's iOS, and it's absolutely free.
Android:
https://play.google.com/store/apps/details?hl=en&id=jp.wanderpass.wanderpass&referrer=pr
Apple's iOS:
https://itunes.apple.com/us/app/apple-store/id1035067083?mt=8
Japanese and English are currently supported, and more languages will be added in the near future as well as other cities.
Wanderpass makes you feel like you are walking with locals who'd like to show you around their town.
Your town walk in Japan will be easier, funnier and more authentic with this new app.
About IPPON Inc.:
Founded in 2015, IPPON Inc. specializes in planning, development and management of applications and websites.
The latest product, Wanderpass was conceived as a concept of making whole Japan like a museum.
#####
For more information, please contact
Hiroshi Takeshita (IPPON Inc.)
3rd floor Kyodo-Building, 2-18-7 Higashi-Ueno, Taito-ku, Tokyo, Japan
Email:
info@ippon-inc.jp
Tel: +81-(0) 80-1222-1729
For more information on Wanderpass:
https://wanderpass.jp/en/index.html?en=1