New Halal Skincare Line from Japan, "Momo Hime," Released
---
Long-established fruit and vegetable retailer created a new skincare line with peach extracts, Momo Hime - "Peach Princess." The halal-certified products will be released on March 3, the Peach Festival day in Japan.
---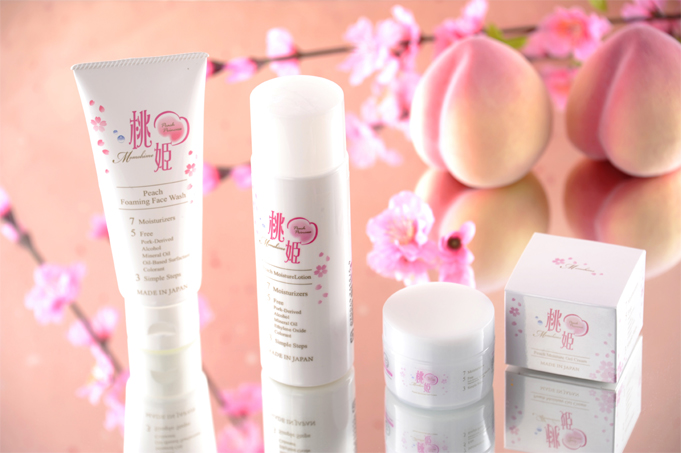 For Immediate Release 19 February 2016
Tokyo, 19 February 2016: PBJ Inc. is releasing halal-certified skincare products "Momo Hime," approved by the Japan Islamic Trust (3-42-7 Minami Otsuka, Toshima-ku, Tokyo), on the third of March in and outside Japan.
Having the 80 years of experience running a fruit and vegetable retailer, PBJ Inc. has for many years focused on the effects of the peach for health and beauty. "Momo Hime," which means Peach Princess, features a soothing peach aroma, which makes women feel relaxed and enjoy their skincare time while the peach extracts maximize its moisturizing and antibacterial effects.
The idea of developing halal skincare products came from the experience of the company's representative, Mieko Kobayashi. While she lived in several foreign countries, she knew that many Muslim women wanted to use Japanese cosmetics at a reasonable price and, more importantly, those should be halal-certified.
All "Momo Hime" products are free from pork and alcohol-derived ingredients, which are prohibited in Islam. The factory complies strictly with the Pharmaceutical Affairs Law, the Product Liability Law, the GMP standard, and ISO 9001 in Japan. In addition, all products, including their containers and packaging boxes, are 100% made in Japan.
"Momo Hime" is launched with three skincare products, and more lineups will be added this year.
Peach Foaming Face Wash (100g) JPY1,780
Peach Moisture Lotion (150ml) JPY1,980
Peach Moisture Gel Cream (30g) JPY1,980
(the prices exclude consumption tax)
The purchase can be made through PBJ Inc.'s website (Japanese/English) and at Muslim-friendly beauty salons and stores. The expansion of the retail outlet to hotels, duty-free shops, and souvenir stores to target inbound tourists is also in the works, with exports to Singapore, Thailand, and Middle Eastern countries to be added in the near future.
"Momo Hime" will be a new name for a halal-certified skincare line made in Japan.
About PBJ Inc.: Started as a family-run fruit and vegetable retailer in downtown Tokyo in 1935. It was incorporated in 2010 and started a study on cosmetics in 2012. As the full-fledged cosmetics business launched in 2015, it changed the company name to PBJ Inc., which stands for Peach Beauty Japan. There is also an office in Indonesia.
#####
For more information, please contact
Mieko Kobayashi (PBJ Inc.)
2-36 Senjyu, Adachi-ku, Tokyo, Japan
Email:
info@peach-beauty-japan.com
Tel: +81-(0)3-5284-8812 / +81-80-9705-0610 (from overseas)
For more information on PBJ Inc. and the Momo Hime skincare line:
http://peach-beauty-japan.com
(Japanese)
http://peach-beauty-japan.com/?mode=f3
(English)