Japanese Calligraphy Made Available Online
---
"brushstock." is a place to download a vast array of Japanese calligraphy works
---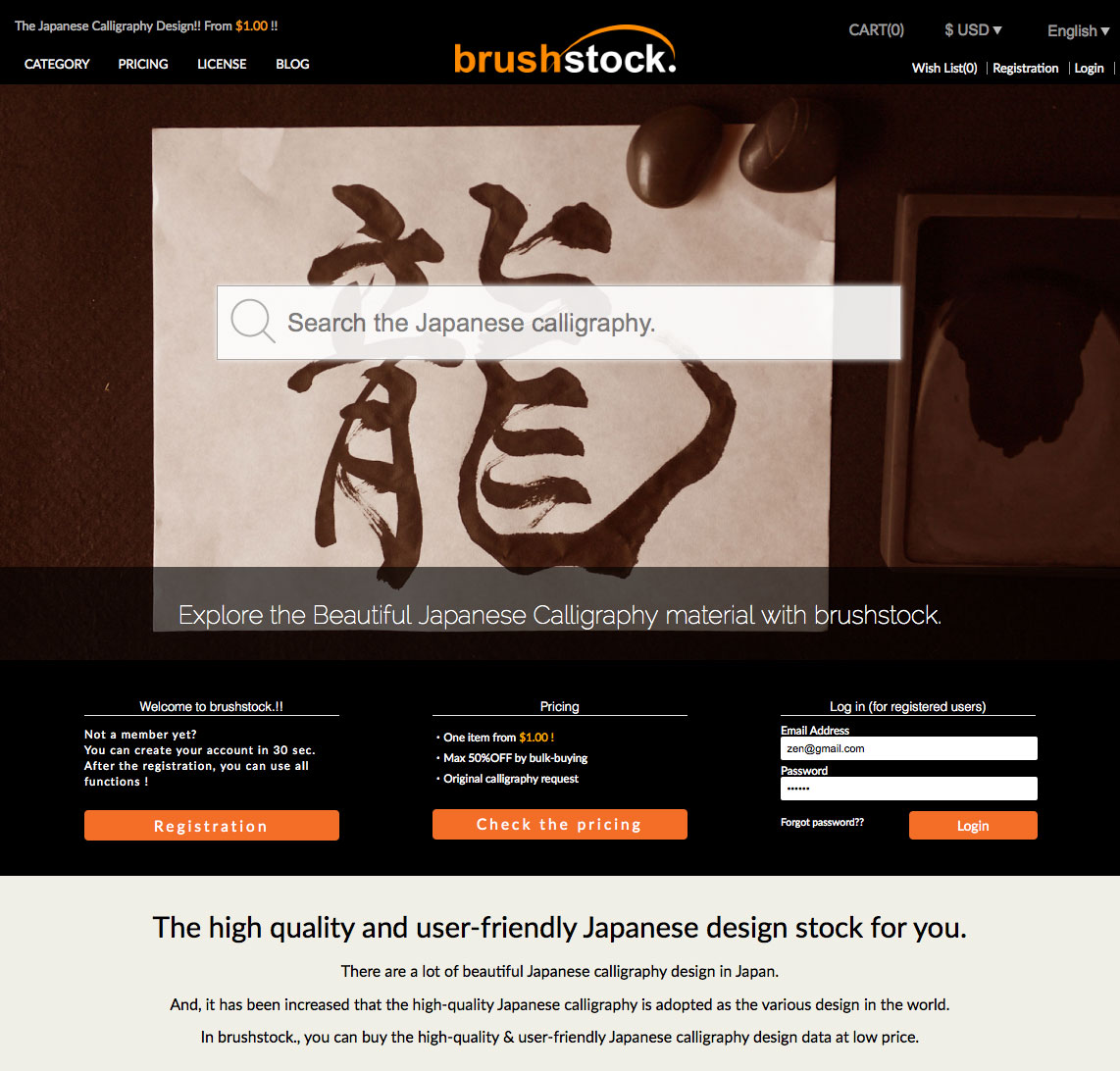 Tokyo–12 February 2016
On the first of February VIART launched an online shopping service for digital images of Japanese calligraphy (
http://viartinc.com/language/en
).
The site stocks almost 13,000 calligraphy motifs products designed by professional calligraphers. These include a vast array of nouns, verbs and adjectives and traditional & modern Japanese wordings, as well as design arts such as lines, circles, frames and symbols. The products are usable in vector (EPS) JPEG and PNG data formats.
The price depends on the size, available in S-$1.00, M-$5.00, L-$8.00 and free size-$10.00, and Credit Cards & PayPal are acceptable for payment.
"brushstock." is suitable for the use of web page, advertisement, magazine, leaflet, product package, tattoo design, sticker design and Wall Art design with the taste of Japan.   
Hot items here are "selective single Kanji (Chinese character)" derived from more than 30 combinations and "foreign names in Kanji and Katakana" written with the calligraphy motifs.
Alongside its wide array of calligraphy motifs products, VIART has simultaneously opened "brushstock. blog (
http://blog.viartinc.com/
)"- mainly focusing on calligraphy video-learning contents available on YouTube, where you can learn the meaning of Kanji, the stroke order and the tips for successful writing.
The blog is also scheduled to add much more contents in view of making it as a worldwide platform of calligraphy video contents.
VIART plans to expand its line of products, upgrade the user interface, improve the accuracy of a multilingual environment and fatten out overall contents, as well as enhancing video contents and provide physical products along with the current digital products.
Founded in 2014, VIART is an online shopping service with a wide selection of Japanese calligraphy works. The site also offers calligraphy video-learning contents for enthusiasts from foreign countries, in the hope of sharing the brilliance of Japanese culture with people worldwide.
Press contact (English)
Ryosuke Ujihara, VIART Inc.
Email:
info@viart.co.jp
For more information on VIART Inc.:
http://viartinc.com/language/en
(In addition to Japanese and English, French, German, Italian, Spanish, Dutch, Portuguese, Russia, Chinese (simplified &Original) and Hangul are also available)