YouTube Video Introduces the Smart Phone Sealing Taro
---
Free up your time by temporarily restraining yourself from using your smart phone with the Smart Phone Sealing Taro…and achieve your long-term goals!
---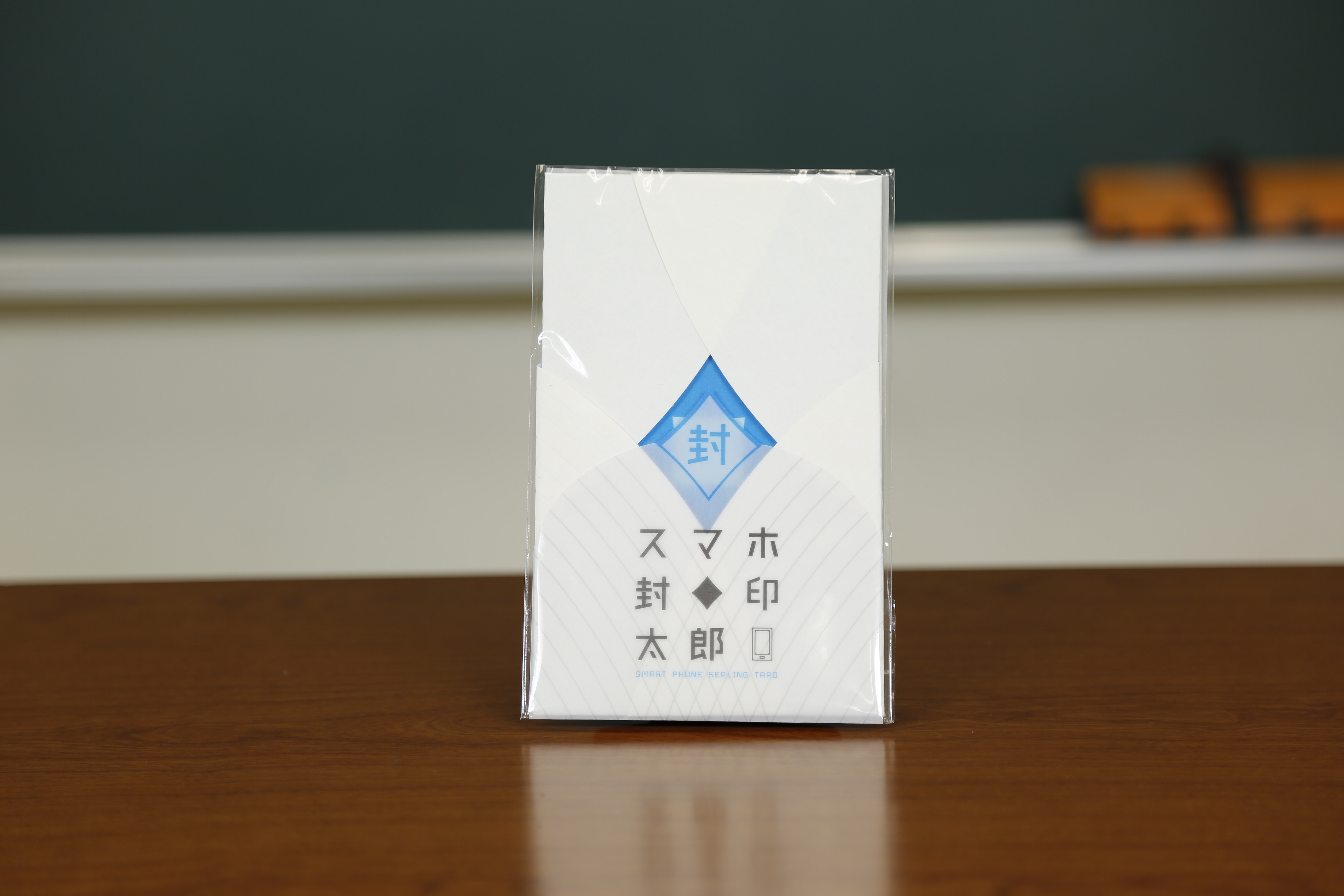 For Immediate Release
6 January 2016
Tokyo (6 January 2016) – Mole Works has just launched a YouTube video (
https://www.youtube.com/watch?v=_tjwz4oZ3mQ
) to introduce its new product, the Smart Phone Sealing Taro. Showcasing how the Smart Phone Sealing Taro is used and its various merits, the video is uniquely produced and directed by 15-year-old entrepreneur Atsushi Muto together with the narration and appearance of high-schooler and entrepreneur Hiroko Nakada.
Smart Phone Sealing Taro
It is designed to help kids preparing for school entrance exams and busy businesspeople to voluntarily control their phone use. The Smart Phone Sealing Taro is a stylish Japanese envelope that wraps up your phone to free up some time for your life's important goals. It comes with an elegant note paper used for writing and enclosing your declaration with your phone and a golden kanji-marked seal.
According to the recent survey by Digital Arts Inc. (
http://www.daj.jp/en/
) conducted in February 2015, Japanese high school boys and girls use their smart phones daily for 4.1 and 7 hours on average respectively. "Smart phones have become an indispensable part of our lives, but with so much of their future hinging on the exams, do they really want to use up so much of their limited time in front of their phones? I came up with the idea of helping such busy kids achieve their goals by reinforcing their self-control to temporarily restrain themselves from using their phones through an easy-to-use product." says Mole Works creative director and founder, Chihiro Hirabayashi.
Since the Sealing Taro can only be used once, it effectively holds back the urge to open up the envelope until the declared goal has been fulfilled. The aim is to let users enjoy some smartphone-free time for study, work, travel, and other pursuits. The Smart Phone Sealing Taro is available at the Amazon Japan website (
http://www.amazon.co.jp/gp/switch-language/product/B0179C1NQG/ref=dp_change_lang?ie=UTF8&language=en_JP
).
Video on the Smart Phone Sealing Taro
Muto, the founder of Creative Fantasy Productions, Inc. expressed an interest in the Smart Phone Sealing Taro, which led to his production of the distinctive online video made by teenage students showcasing the product's features in an interview format with other teenage students.
Going Forward
Mole Works is developing an original LINE sticker based on this concept for release in January 2016. A related product, the Smart Phone Sealing Hanako is scheduled for launch in April 2016.
The YouTube video can be seen at:
https://www.youtube.com/watch?v=_tjwz4oZ3mQ
About Mole Works
Mole Works is a Tokyo-based business venture focused on event artworks, branding, design, planning, and production of original products. For more information, visit their website at
http://www.moleworks.jp/
.
Contact
To learn more, please contact
Chihiro Hirabayashi
Mole Works
+81+8077962680
info@moleworks.jp
###