Foreign tourists increased up to 70% of all
---
'OMOTENASHI' with Japan's biggest floor levels and rare varieties of rabbits
---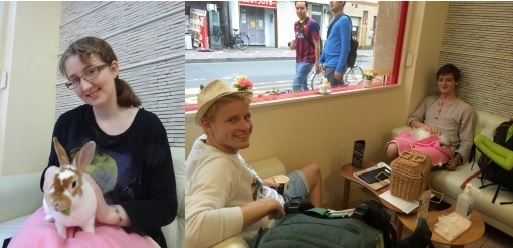 ʻTheme Park With Bunny' in Asakusa is offering you the private play space for you and rabbits. It is a rabbit café produced by Lyceum Japan Corporation opened in July 2013 and its number of foreign tourists keeps rising.
◆Featured in a Japanese TV program
URL:
https://www.youtube.com/watch?v=nyrllPmip9w&feature
It had 30,000 visitors in the first year and 30% was foreign tourists. Now in their second year, the number of foreign tourists increased substantially up to 70% approximately. Total prospective visitors of this year will be increased up to 50,000. More than 300 foreign tourists visited during the first three days of New Year 2015.
■The Word is『A・SA・U・SA』→ Asakusa × Usagi(Usagi means rabbit.)
One reason for its popularity is that pet café, which is pretty familiar with Japanese people, is still unique to foreign tourists. Also, playing with rabbits, rarer than cats is completely a new experience for foreign tourists and becoming a special memory for them.
Foreign tourists take pictures with rabbits like taking pictures with Koala in Australia and share their memories of travel by posting them on their You tube and SNS, etc.
These postings leads an increase in the number of foreign tourists and our rabbit café has been spread by word of mouth as a café offering the space to play with rabbits at a short distance in Asakusa.
To make it easier to remember for foreign tourists, we tell them a new word we made, ʻA・SA・U・SA', which has both meanings of Asakusa(A・SA) and rabbits(U・SA) .
■Occupying a whole building! Available for private rooms!
By occupying a whole five-storied building and one roof terrace, we are able to provide you the private rooms for you and rabbits. Good thing about our rabbit café is that you can reserve a private room and enjoy private time with rabbits. Each floor is available for 6 to 10 people. We will make every effort to satisfy your requests and demands.
■Enjoy communicating with 9 different varieties of 30 rabbits!
The most amazing and exiting thing for visitors is its rare varieties of rabbits we are taking care of. There are nine different varieties of 30 rabbits you can see up close in 『Theme Park With Bunny Asakusa』. You may choose your favorite rabbits and spend time with them in a private room. By breeding many kinds of rare rabbits in a special environment, mercifully we have got good comments from visitors such as; ʻI have never seen such a lovely rabbits!' and 'what kinds of rabbits are they? where are they from?'
■Countries
By country, Australia has a highest number of foreign tourists, followed by European countries, China, Taiwan and Korea. Foreign tourists mostly come in big groups or families. Some of them visited Japan to visit us! We see the way they communicate with rabbits and their ideas about rabbits vary culturally. To continue offering you better service, touch panel system available in English was introduced
last year. Also, we hire an additional Chinese staff fluent in English and Japanese.
■「Samurai, Ninja, Harakiri, Fujiyama, Geisha, Sukiyaki, Sushi, Tempura and ASAUSA」
Rabbit café, "With Bunny Asakusa" will be recognized worldwide as a new tourist spot and "Asakusa-rabbbits" will be a new key word for foreign tourists in the future. Our goal is to increase the number of foreign tourists to Asakusa by posting good points of Japan and interactive contents about our rabbit café to SNS.
Please remember a new symbols of Japan;「Samurai, Ninja, Harakiri, Fujiyama, Geisha, Sukiyaki, Sushi, Tempura and ASAUSA」
<Contact us for an interview: available in English>
■Lyceum Japan Corporation ■Press officers:KAWAOKA(Mr.)
■URL:
http://www.usagi-cafe.info/
■Email:info
@lyceum.co.jp
■TEL:03-5827-8229 ■FAX:03-5827-8229
<Corporate Outline>
【Corporate name】:Lyceum Japan Corporation Japan
【Location】:1-7-1, Hanakawado, Taito-ku, Tokyo
【Representative】:Tomoyuki KAWAOKA 【Capital】:5 million yen
【Business contents】:Store operation and Consulting business 【Tel】:03-5827-8229
<Shop outline>
【Shop name】:Bunny's ThemePark With BunnyAsakusa
【Location】:1-7-1, Hanakawado, Taito-ku, Tokyo
【Directions】1 minute on foot from Asakusa station
【Open】:12:00 〜 19:00 【Close】None, but we have temporary closings.
【Tel&FAX】:03-5827-8229
【Person Responsible for Animal Handling】:Tomoyuki KAWAOKA(Mr.), Yuki MORI(Ms.) and Yoshiko NIKAIDO(Ms.)
【Animal handling business registration number】:No.003985
【Fee】
・Entrance fee・・・500yen
・Museum plan・・・You can carry your favorite one and take a souvenir shot after watching many kinds of rabbits! 1,000yen
・Communication with rabbit plan・・・You can play with your favorite rabbits! Select time, room and options you like. 2,000 yen~
【URL】:
http://www.usagi-cafe.info/